A thought-provoking film: "The Case for Christ"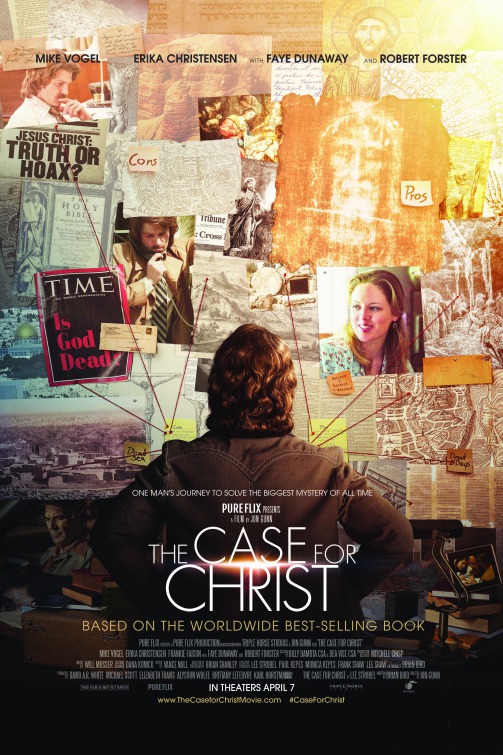 A hard-driving journalist, Lee Strobel was exactly where he expected to be at work: on top. His award-winning investigative reporting recently earned him a promotion to legal editor at the Chicago Tribune. But things weren't going nearly as well at home where his wife Leslie's newfound faith in Christ went against everything Lee believed—or didn't believe—as an avowed atheist.
Utilizing his journalistic and legal training, Lee begins a quest to debunk the claims of Christianity in order to save his crumbling marriage. Chasing down the biggest story of his career, Lee comes face-to-face with unexpected results that could change everything he knows to be true.
Based on Lee Strobel's award-winning bestselling book and starring Mike Vogel, Erika Christensen, Faye Dunaway, and Robert Forster, The Case for Christ opens in theaters April 7. It's an ideal Easter-season movie for anyone who has ever pondered the existence of God … and what role He could play in their lives.
Okay, I have to admit that I was surprisingly entertained by the thought-provoking film, "The Case For Christ". Why do I say surprisingly? Because as much as I loved the book, The Case for Christ, I simply was at a loss as to how a movie was going to be formed from the book.
I am happy to report that the movie is quite well done, with solid performances from the actors such that I was thoroughly immersed into the story line of the Strobel family. I think what most stood out for me is that the film makes no efforts to portray Lee as some perfect guy who simply discovered Christ and became an even better version of himself. Rather, the producers portray a Lee who is as human as you and I, to the point that there were moments I simply didn't like him because of the way he was treating his wife. And that made this movie all the more real to me. In the end, I was not only captivated by the story of the Strobels, but also loved watching Lee gather the evidence for Christ's existence on Earth, for Jesus' death and for his resurrection.
Now, will someone who is a staunch atheist really watch this film and be convinced to believe in Christ? I will leave that answer up to the Holy Spirit! But this film is an effective way to engage people's emotions and to present the truth of the gospel to them in a compelling manner. And as a Christian, I appreciate that I was presented with ways to defend why I believe what I believe.
I strongly recommend this movie and award it a rating of 4 out of 5 stars.
Movie has been provided courtesy of Pure Flix Entertainment and Graf-Martin Communications, Inc.