Get ready to laugh, even cry, perhaps...swoon? GIVEAWAY & review of "Unrivaled" by Siri Mitchell
I love giveaways! And I'm excited to offer a copy of "Unrivaled" by Siri Mitchell. Read on for my review of her latest book and to enter the giveaway too!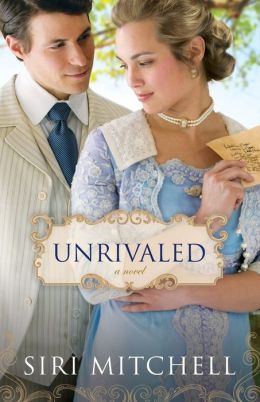 Lucy Kendall returns from a tour of the Continent, her luggage filled with the latest fashions and a mind fired by inspiration. After tasting Europe's best confections, she's sure she'll come up with a recipe that will save her father's struggling candy business and reverse their fortunes. But she soon discovers that their biggest competitor, the cheat who swindled her father out of his prize recipe, has now hired a promotions manager--a cocky, handsome out-of-towner who gets under Lucy's skin.
Charlie Clarke's new role at Standard Manufacturing is the chance of a lifetime. He can put some rough times behind him and reconnect with the father he's never known. The one thing he never counted on, however, was tenacious Lucy Kendall. She's making his work life miserable...and making herself impossible for him to forget.
Reading a book about candy making definitely has its hazards. Never before have I craved so many sweet treats as when I was reading "Unrivaled"!

However, its risk to waistlines aside, I can confidently state that Siri Mitchell's latest book offers up a lot that readers are going to love. She writes with her usual steady hand, providing colorful descriptions, interesting historical details, and characters who are wonderfully original. Lucy Kendall and Charlie Clarke absolutely spring off the pages as they dance in and out of each other's lives and as they trade one witty barb for another. The development of their relationship is filled with many moments of hilarity where I was literally laughing out loud! I did have a few moments where Lucy's actions disappointed me, but I also see that her actions are part of her desperate desire to save her dreams and arise out of a lack of maturity on her part. I loved watching Lucy think through matters of faith and come to realize that it's not about her, it's about God and what he has done for us. The plot line that I most enjoyed was actually Charlie's relationship with his father, which explores his hurt at being abandoned, but also offers up a positive message about reconciliation and second chances.

Readers who enjoy a good historical romance are going to love "Unrivaled". Expect laughter, perhaps a tear or two...and the romance may just make you swoon. Plan on adding this one to your "to-be-read" list for sure! 4 out of 5 stars.


Book has been provided courtesy of Baker Publishing Group and Graf-Martin Communications, Inc. Available at your favourite bookseller from Bethany House, a division of Baker Publishing Group.
Siri Mitchell
is the author of nearly a dozen novels, among them the critically acclaimed Christy Award finalists
Chateau of Echoes
and
The Cubicle Next Door
. A graduate of the University of Washington with a degree in business, she has worked in many different levels of government. As a military spouse, she has lived in places as varied as Tokyo and Paris. Siri currently lives in the DC-metro area. Visit www.sirimitchell.com
And now for the giveaway....
I am giving away 1 copy of "Unrivaled" to readers from the U.S. and Canada, courtesy of the publisher, Revell, and Graf-Martin Communications, Inc
You can get 1 entry into the giveaway for each task you perform:
1. Become a follower of my blog (through Google Followers or Networked Blogs) then leave a comment confirming you became a follower. If you are already a follower, just leave a comment that you already follow and I'll give you 1 entry for that.
2. "Like" my Facebook page, and let me know you did so in a comment. (The link is at the top of the webpage). Let me know if you've already liked it, and I'll give you an entry.
3. Post about the giveaway on your own blog or on twitter or facebook and leave me a comment. You get 1 entry for each method of spreading the word!
4. Leave a comment answering the following question: "What is your favorite type of Candy?"
++ Please include your email address in your comment so I can contact you to arrange to get the book in the mail to you.
That's all there is to it. Contest Ends March 15, 2013.
Good luck!