Suspenseful, unique read: "Seagrass Pier" by Colleen Coble"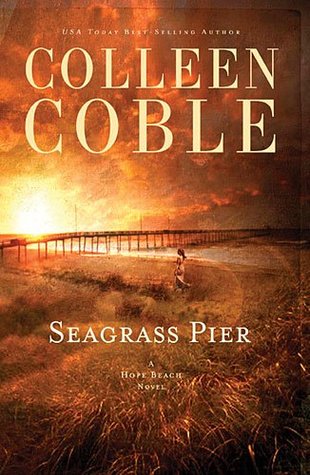 In a secluded corner of Hope Beach, one woman must decipher a stranger's memories . . . before they cost her everything.

Elin Summerall was one of the lucky ones. Not only did she get a heart transplant, but the donor was a perfect fit. A miraculously perfect fit.

But when Elin begins having violent flashbacks--and vivid dreams of being strangled--she realizes that she has been the recipient of more than just a new heart . . . Elin is remembering her donor's murder.

Her strange affliction has attracted some unwanted attention: from the press, from the authorities . . . and from the killer himself. Now, living alone with her young daughter and aging mother, Elin is being stalked--by a man she's only met in her nightmares.

The police are dubious of her story, but one off-duty FBI agent is eager to help her: Agent Marc Everton, the father of Elin's daughter.

Of course, he doesn't know about that. Yet.

Now, in a remote cottage on Hope Island, Elin and Marc must probe the secrets buried in her borrowed heart. And there's no time to waste. One man is desperate to silence her--before she remembers too much.
The third book in the "Hope Beach" series is filled with twists and turns aplenty that will keep readers engaged from start to finish. I found the underlying premise of the novel to be wonderfully intriguing, where Elin is having nightmares that are not her own, but rather are from her heart donor. I can't even imagine what that would be like, to be on the verge of death until I received an organ from someone else, followed by subtle changes in my personality and memories of things that never happened to me! Such is the case with Elin. The trouble stalking Elin builds up page by page, but I will admit I was a bit disappointed by how Elin and Marc handle the escalating threats to her life. Although I can understand why it would be difficult for others to take Elin seriously as they cannot understand what she's going through, I did find myself wondering if it was realistic how Elin responded. After someone broke in and left threats of death, wouldn't she take further action like immediately install an alarm system or other such things? Nevertheless, I loved how Coble keeps us readers guessing about who the villains are, and the ending does bring surprises. Marc also proves to be a stand-up guy who shows what it means to be a steadfast father and friend.
I also enjoyed the character of Elin's mother, who adds a definite depth to the story, such as when she says "Contentment is found in your heart, Elin. It's not in a profession or in a relationship". How often do we try to find fulfillment in our jobs or in our earthly relationships, rather than in God? There were several such moments in the story that left me in deeper thought.
Although not my favourite book from Colleen Coble, "Seagrass Pier" offers up satisfying romance and intriguing suspense in an entertaining package. 3 out of 5 stars.
A review copy was received from the publisher in exchange for an honest review. I was in no way compensated for this review.
Find out more about the book on the publisher website: http://www.thomasnelson.com/seagrass-pier.html