An action-packed historical drama of the best kind: My review of Promise Me This by Cathy Gohlke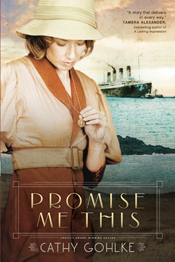 Michael Dunnagan was never supposed to sail on the Titanic, nor would he have survived if not for the courage of Owen Allen. Determined to carry out his promise to care for Owen's relatives in America and his younger sister, Annie, in England, Michael works hard to strengthen the family's New Jersey garden and landscaping business.
Annie Allen doesn't care what Michael promised Owen. She only knows that her brother is gone—like their mother and father—and the grief is enough to swallow her whole. As Annie struggles to navigate life without Owen, Michael reaches out to her through letters. In time, as Annie begins to lay aside her anger that Michael lived when Owen did not, a tentative friendship takes root and blossoms into something neither expected. Just as Michael saves enough money to bring Annie to America, WWI erupts in Europe. When Annie's letters mysteriously stop, Michael risks everything to fulfill his promise—and find the woman he's grown to love—before she's lost forever.
Promise The This is a moving, action-packed read that held me in it's grip from the opening scenes to the satisfying conclusion. Drawing upon the rich historical drama of the sinking of the Titanic and the First World War, the story spans a number of years as it follows the lives of Annie Allen and Michael Dunnagan as they experience heart-ache, seeming insurmountable odds, and disappointment after disappointment. Yet, in the midst of their trials, the light of Jesus shines brightly. Both Annie and Michael experience a highly believable spiritual journey in the pages of this book, coming to realize that no matter what happens in their lives, the God of the Universe is as close as their breath, walking with them through the valley of the shadow of death. I loved watching both Annie and Michael arise triumphant in the midst of their circumstance, and the power of forgiveness and grace is beautifully illustrated in their lives. The discovery and growth of their own love for each other is also poignant to behold.
I literally found it impossible to step away from the pages of this story, and I highly recommend this book for those readers who love historical dramas filled with action and starring believable and inspiring characters. 5 out of 5 stars!
Cathy Gohlke is the two-time Christy Award–winning author of the critically acclaimed novels Promise Me This, William Henry Is a Fine Name, and I Have Seen Him in the Watchfires, which also won the American Christian Fiction Writers' Book of the Year Award and was listed by Library Journal as one of the Best Books of 2008.
Cathy has worked as a school librarian, drama director, and director of children's and education ministries. When not traipsing the hills and dales of historic sites, she, her husband, and their dog, Reilly, make their home on the banks of the Laurel Run in Elkton, Maryland. Visit her website at www.cathygohlke.com.