Colourful characters & interesting historical details: My review of "The Journey of Josephine Cain" by Nancy Moser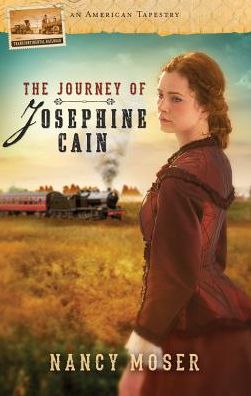 about the book...
When a socialite from the nation's capital embarks on a journey to the Wild West, her life is changed forever. A setting populated by hundreds of laborers, outlaws, and Indians is hardly the place for a wealthy general's daughter. But Josephine Cain is determined to visit her father, who supervises the day-to-day work involved in the grandest ambition of post-Civil War America: the building of the Transcontinental Railroad. Life with the railroad is far from the proper life Josephine is used to, and she faces deadly gunfights, harsh weather, and vigilante uprisings. She is torn between the West and the East; between her privileged upbringing and the challenges of a new frontier; between the pull of the suitable beau her parents approve of and an attraction to a rough but charming Irish railroad worker.
But if Josephine is willing, she just might find a new life, a unique purpose… and true love.
Nancy Moser's latest offering brings to life post-civil War America and the Wild West, with colorful characters and interesting historical details. Female readers especially will appreciate the romantic tension that oozes through the pages, as Josephine finds herself caught between her relationship with her fiance and her attraction to the seemingly unworthy railroad worker. I enjoyed the twists that Moser has added to the story, where we watch Josephine discover that all is not as it seems. However, I must say that some of Josephine's behaviours, in her immaturity, simply grated on me, and so I did not always enjoy her as a character. I have no doubt that other readers will not at all agree, for there is indeed much to like about Josephine with her spark for life and her determination to succeed. Readers who enjoy historical fiction with interesting characters with a few surprises thrown in will no doubt enjoy "The Journey of Josephine Cain".
I give this book a mild recommendation and a rating of 3 out of 5 stars.
Book has been provided courtesy of the publisher, Summerside Press, and the Litfuse Publicity Group, for the purposes of this unbiased review.
Nancy Moser is the award-winning author of over twenty novels that focus on the characters discovering their unique purpose. Her genres include both contemporary and historical stories.
Buy the book from Amazon