Stunning and inspirational: My review of "Harvest of Rubies" by Tessa Afshar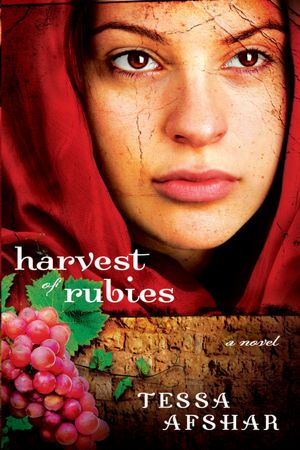 Set in 457 BC in the Kingdom of Persia, Harvest of Rubies follows the story of the prophet Nehemiah's cousin, Sarah. Seeking to win the attention and approval of her father, Sarah teaches herself to read and write, a normally unacceptable occupation for a woman in her society. When cousin Nehemiah learns of this, he encourages Sarah in her pursuits, and soon she has learned multiple languages and becomes a gifted scribe. Her gifts lead her to the Persian court, where she becomes the queen's favorite scribe. Just when Sarah has found a measure of worth in her achievements, she foils a plot to cause a rift between the Queen and the King's mother. The Queen seeks to reward her - with an unwanted marriage to a wealthy aristocrat, Darius. Their marriage begins in scandal and scorn, sending Sarah on a path to discover that her real worth lies in unexpected places.
Harvest of Rubies is truly a stunning accomplishment, a carefully crafted historical novel featuring a fast moving plot and one of the best heroines I've come across this year. Sarah is completely compelling, a character who doesn't fit into proper society, finding herself in situations that made me laugh out loud and tugged on my heart-strings at the same time. Only pages into the story, I was completely absorbed both by Sarah as a character and by the plot unfolding at a swfit pace. The time period that the story is set in is simply fascinating, from the royal courts to the Persian culture that is so different than my own. I loved the little details the author throws into the story, such as the cook with the marble eye, or the fact that Persian noble woman (at least in that time period) were expected to be proficient in horseback riding and hunting. The story is filled with colourful descriptions, excitement and intrigue, and I guarantee that readers who love historical fiction are absolutely going to love this book. Not only will they be entertained, but their faith will be stirred by the wisdom contained in this book, as Sarah encounters a living God who measures her worth simply by the fact he made her
good
, and not based on what she may or may not accomplish.
I leave you with a quote from early on in the story, where Sarah is told "You may fail; I cannot deny it. But if you go through life making every decision based on what is safest, you will look back one day and discover that you have missed out on the best". These are indeed powerful words to live by.
I highly recommend this story and award it 5 out of 5 stars.
Disclosure of Material Connection:
I received this book free from Moody Publishers as part of their Blogger Review Program. I was not required to write a positive review. The opinions I have expressed are my own.
Tessa Afshar was voted "New Author of the Year" by the Family Fiction sponsored Reader's Choice Award 2011 for her novel Pearl in the Sand.