A fresh take on "Bathsheba" (by Angela Hunt)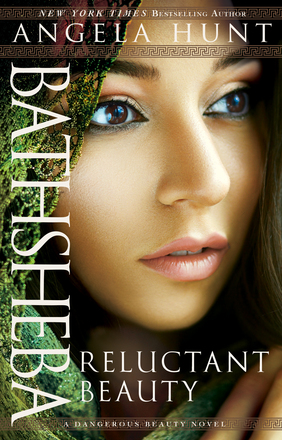 One of Ancient Israel's Most Famous Women--
As You've Never Looked at Her Before
One of the Bible's most misunderstood and misjudged women, Bathsheba comes to life in this new biblical reimagining from Angela Hunt. Combining historical facts with detailed fiction, this is an eye-opening portrait that will have you reconsidering everything you thought you knew about her.
After receiving God's promise of a lifelong reign and an eternal dynasty, King David forces himself on Bathsheba, a loyal soldier's wife. When her resulting pregnancy forces the king to murder her husband and add her to his harem, Bathsheba struggles to protect her son while dealing with the effects of a dark prophecy and deadly curse on the king's household.
I have long loved the story of David and Bathsheba, not because the story in and of itself is necessarily inspiring. In fact, reading through Angela Hunt's "Bathsheba", I was reminded of the tragedy of the story, and that a man charged with tending to Israel as God's beloved engaged in adultery and murder. However, I just find it so amazing that God includes the stories of people in the Bible who mess up so royally, and yet are forgiven and loved by God, such as is the case here. Hunt does a marvellous job at bringing a fresh voice to their story, such that I gained a whole new appreciation for Bathsheba in particular, and the hardship that she endured. Despite the fact that I not only knew this story from the Bible, but from having read many versions of fictionalized accounts of these characters, I greatly enjoyed this novel and found new twists and an engagingly written plot. I felt Bathsheba's pain and mourned along with her as she lost her innocence and her husband and then her newborn child all within the span of a year. And yet despite that tremendous loss, God proved himself faithful to her. David is likewise a well-developed character, and I think what stood out from me in Hunt's account is how he so quickly admits his wrong doing and casts himself on God's grace. All of us struggle with sin in various forms, and there is a lesson to be learned here in watching David humble himself before God.

If you have never read a fictionalized account about Bathsheaba, then Angela Hunt's book is an excellent place to start. The story has been brought to life in a wonderful way, and you will not only enjoy the interesting plot but will walk away with a new appreciation for God and how he can take broken things and use them for good.

I award this novel a high recommendation and a rating of 4.5 out of 5 stars.

Book has been provided courtesy of Baker Publishing Group and Graf-Martin Communications, Inc.
The author of more than 100 published books and with nearly 5 million copies of her books sold worldwide, Angela Hunt is the New York Times bestselling author of The Note, The Nativity Story, and Esther: Royal Beauty. Romantic Times Book Club presented Angela with a Lifetime Achievement Award in 2006. In 2008, Angela completed her PhD in Biblical Studies in Theology. She and her husband live in Florida with their mastiffs. She can be found online at www.angelahuntbooks.com.
Buy now from Amazon.com: