A unique and wonderful tale: My review of The Prophet by R. J. Larson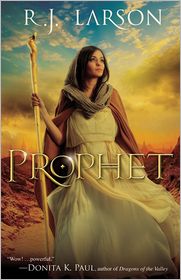 Publisher:
Bethany House Publishers; Original edition (April 1, 2012)
Close your eyes, Ela of Parne. Close your eyes and you will see.


Ela Roeh of Parne doesn't understand why her beloved Creator, the Infinite, wants her to become His prophet. She's undignified, bad tempered, and only seventeen--not to mention that no prophet of Parne has ever been a girl. Worst of all, as the elders often warn, if she agrees to become the Infinite's prophet, Ela knows she will die young.
Istgard has turned their back on me. See the evil they do.
Yet after experiencing His presence, she can't imagine living without Him. Determined to follow the Infinite's voice, Ela accepts the sacred vinewood branch and is sent to bring the Infinite's word to a nation torn apart by war. Here she meets Kien, a young Traceland ambassador determined to bring his own justice for his oppressed people. As they form an unlikely partnership, Ela must surrender to her destiny... and determine how to balance the leading of her heart with the leading of the Infinite.
Will you accept the branch and speak my will? Will you be my prophet?
Prophet is a unique, wonderful tale that grabbed me from the first chapter and kept me spellbound throughout. It is unbelievably good, pulsing with supernatural imagery and descriptions that are captivating. Ela is one of my favourite characters to star in a book in 2012 so far, beautifully developed and a pleasure to read about. She is a character who captures the essence of how so many of us feel at some point in our lives when she states "I'm clumsy and insignificant. No one will listen to me....I'm not going to be of any use to You at all!". What follower of God has not, in some way, questioned how God could possibly use us? And yet God, here portrayed as "the Infinite"
does
use Ela as a powerful prophet, one who brings to mind comparisons to real-life Elijah and Elisha. This book satisfies on so many levels, as not only an entertaining story, but also a reminder that God searches our hearts and our minds in our daily lives just like he does through the words spoken by Ela in the story. We too will be held accountable for our actions, and have the choice to ignore God or serve God faithfully, with all of the joys and mysteries that accompany that service.
I heartily recommend this novel for all readers who love a good fantasy novel...and even for those who aren't convinced they do! The book moves at a fast pace with lots of action, moments of romance, and unexpected humour that had me smiling and laughing in turn (I loved the scenes with the horses, the destroyers....you'll see what I mean!). I'm left wanting more, and am thankful this is only the first installment in what is sure to be a fantastic series!
Book has been provided courtesy of Baker Publishing Group and Graf-Martin Communications, Inc. Available at your favourite bookseller from Bethany House, a division of Baker Publishing Group.
R. J. Larson is the author of numerous devotionals featured in publications such asWomen's Devotional Bible and Seasons of a Woman's Heart. She lives in Colorado Springs, Colorado, with her husband and their two sons. Prophet marks her debut in the fantasy genre. Visit
http://rjlarsonbooks.com/
for more information.
READY TO BUY?