A fabulous addition to the series: My review of "The Haven" by Suzanne Woods Fisher @suzannewfisher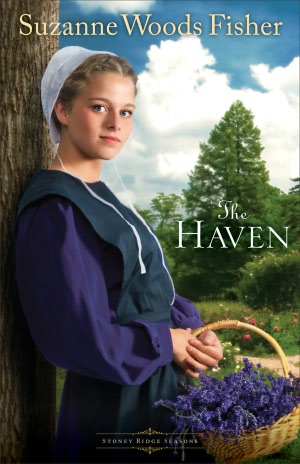 Spring brings new life, young love, and second chances to Stoney Ridge.
On a warm spring day, Sadie Lapp returns home to her quiet, unassertive life in Stoney Ridge after spending the winter in Ohio.
Gideon Smucker, an awkward schoolteacher, has been in love with Sadie since childhood and eagerly awaits her return. But does Sadie feel the same about him?
Will Stoltz, a charming and impetuous college student, has been banished for a semester and sent to babysit endangered peregrine falcons nesting at the Lapp farm. He'd rather be anywhere else . . . until he befriends Sadie.
As the hopes and ambitions of these three young people converge, life in Stoney Ridge may never be the same.
Once again, bestselling author Suzanne Woods Fisher intrigues and delights with a story that explores the bonds of friendship, family, and true love in this captivating series.
Well, once again Suzanne Woods Fisher is to blame for causing me to stay up way too late at night to finish one of her books!
As the clock ticked past midnight, I truly tried to walk away from Sadie's story but just had to reach the end. The Amish family at Stoney Ridge may very well be one of my favourite family of characters to come along in some time. I simply can't get enough of reading about their adventures and seeing their unique perspectives on life. Sadie is a wonderful character who I felt like cheering for as she grew to become comfortable in her own skin, and discovered that God uniquely gifted her and she's able to do more than she even dreamed of. The scene where she boldly helps an older Amish lady let go of her bitterness and discover anew the power of forgiveness was a powerful one indeed. And who ever thought she'd catch the attention of not one but two men interested in her? The resulting tension results in some hilarious scenes!
Fisher's writing continues to be filled with both humour and deep emotion, with smooth flowing words and plenty of action to keep the scenes moving. It is truly Amish fiction at its best, and I award this book 5 out of 5 stars. I can't wait for the final book in the series,
The Lesson
, featuring one of my favourite characters (M.K.), coming January 2013!!
Book has been provided courtesy of Baker Publishing Group and Graf-Martin Communications, Inc. Available at your favourite bookseller from Revell, a division of Baker Publishing Group.
Suzanne Woods Fisher is the bestselling author of The Choice, The Waiting, The Search, The Keeper, and The Haven, as well as nonfiction books about the Amish, including Amish Peace. She is also the coauthor of a new Amish children's series, The Adventures of Lily Lapp. Her interest in the Anabaptist cultures can be directly traced to her grandfather, who was raised in the Old Order German Baptist Brethren Church in Franklin County, Pennsylvania. Suzanne is a Christy Award finalist and a Carol Award finalist. She is the host of internet radio show Amish Wisdom and a columnist for Christian Post and Cooking & Such magazines. She lives in California. For more information, please visit www.suzannewoodsfisher.com and connect with her on Twitter @suzannewfisher.