A sheer delight to read: My review of Harvest of Gold by Tessa Afshar (with CFBA tour)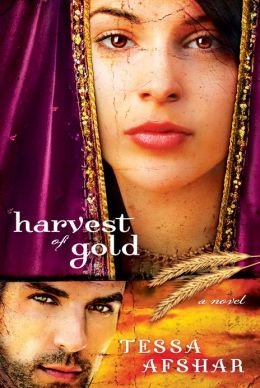 Check out a preview and my review of the latest book from Tessa Afshar, courtesy of the publisher and CFBA:
........


This week, the
Christian Fiction Blog Alliance
is introducing
Harvest of Gold
River North; New Edition edition (July 1, 2013)
by
Tessa Afshar
ABOUT THE AUTHOR:
TESSA AFSHAR was voted "New Author of the Year" by the Family Fiction sponsored Reader's Choice Award 2011 for her novel Pearl in the Sand. She was born in Iran, and lived there for the first fourteen years of her life. She moved to England where she survived boarding school for girls and fell in love with Jane Austen and Charlotte Bronte, before moving to the United States permanently. Her conversion to Christianity in her twenties changed the course of her life forever. Tessa holds an MDiv from Yale University where she served as co-chair of the Evangelical Fellowship at the Divinity School. She has spent the last thirteen years in full-time Christian work.
ABOUT THE BOOK
The scribe Sarah married Darius, and at times she feels as if she has married the Persian aristocracy, too. There is another point she did not count on in her marriage-Sarah has grown to love her husband. Sarah has wealth, property, honor, and power, but her husband's love still seems unattainable.
Although his mother was an Israelite, Darius remains skeptical that his Jewish wife is the right choice for him, particularly when she conspires with her cousin Nehemiah to rebuild the walls of Jerusalem. Ordered to assist in the effort, the couple begins a journey to the homeland of his mother's people. Will the road filled with danger, conflict, and surprising memories, help Darius to see the hand of God at work in his life-and even in his marriage?
A hidden message, treachery, opposition, and a God-given success, will lead to an unlikely bounty.
If you'd like to read the first chapter of
Harvest of Gold
, go
HERE
.
my review.....
"Harvest of Gold" is a delight to read, filled with fascinating historical details, captivating characters, and splendid adventure. I thoroughly enjoyed the first book introducing the characters of Sarah and Darius, "Harvest of Rubies", and have been eagerly anticipating this sequel. I was certainly not disappointed! The prose is impeccable, and Tessa has woven a tale that is utterly rich in faith and actually moved me to tears in one scene. Although the aspect of the plot dealing with the assassination attempt of King Artaxerxes made for some absorbing reading, it was actually the scenes focusing on Nehemiah and the rebuilding of the walls of Jerusalem that deeply moved me. Nehemiah has many scenes that will long stay with me, moments where he stirred people on to greatness and displayed a wonderful trust in God. I was struck anew by the fact that he prayed without ceasing for four-and-a-half months before God answered his prayer to be able to speak to the King and be given the opportunity to travel to Jerusalem and lead his people to rebuild the walls. There are times in all of our lives where we can grow impatient in prayer, and this is a wonderful reminder that God answers prayers in his own timing, and that though the answer may not always be what we are looking for, it always results in good. I am definitely planning to read this book over again to mine the deep truths contained within its pages!

If you are looking for a book filled with romance, intrigue, and ancient wisdom, then "Harvest of Gold" is for you! I highly recommend this book and award it 4.5 out of 5 stars.


Book has been provided courtesy of the publisher and Christian Fiction Blog Alliance, for the purposes of this unbiased review.