Sure to please parents & children alike: My review of "The Berenstain Bears Good Deed Scouts Help Their Neighbors" @DailyVineCA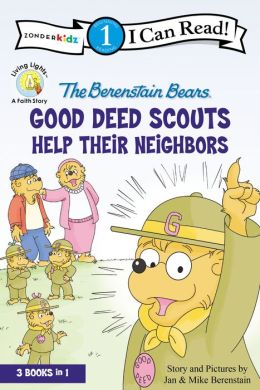 In this collection of three stories, young readers will learn from the Good Deed Scouts just how important it is to serve others. Written in the level one of the I Can Read standards, these bind-ups of stories from the Berenstain Bears Living Lights series are sure to please emergent readers. Parents will appreciate these quality stories that help children practice early reading skills and learn about caring for others. Books included in this collection are: The Berenstain Bears Mama's Helpers, Help the Homeless, and Honey Hut Helpers.
Nothing makes me happier than sitting down with my children to read a book and listening to their peals of laughter as we read through a story. Such was the case with "The Berenstain Bears Good Deed Scouts Help Their Neighbors", particularly with the first of the three stories included, which focuses on the ever-clumsy Papa. As Papa fell into the creek or got chased by a bull, all while trying to show the Good Deed Scouts how to find the best wild honey, my children were grinning from ear to ear! The three stories are all written with Jan and Mike's usual interesting flair for drama, and the accompanying pictures are action packed, colourful, and highly entertaining.

My children declared that they loved these stories and insisted I read it more than once, something I am happy to do. However, my older children also took turns reading the book, and I found that the stories are a good fit for the "Level 1" rating the stories are given in the "I Can Read!" scale. The language is simple and straight-forward, yet kept their interest for the entire story. And, not only are the stories entertaining, but they contain wonderful moral messages and have Bible verses woven into the pages that are designed to stick with children long after the covers are closed.

In all, my children and I give this book our highest recommendation and a rating of 5 stars.

A review copy was received from the publisher in exchange for an honest review. I was in no way compensated for this review. Available from your favorite book retailer from Zondervan (Zonderkidz), a division of HarperCollins.


Stan and Jan Berenstain introduced the first Berenstain Bear books in 1962. Mike Berenstain grew up watching his parents work together to write about and draw these lovable bears. Eventually he started drawing and writing about them too. Though Stan died in 2005, and Jan in 2012, Mike continues to create the delightful Bear adventures from the family home and studio in Pennsylvania, in an area that looks much like the sunny dirt road deep in Bear Country.
Find out more about the book on the publisher website: http://zondervan.com/9780310721642