Will capture the attention of young readers: My review of "The Berenstain Bears: Faithful Cubs" @DailyVineCA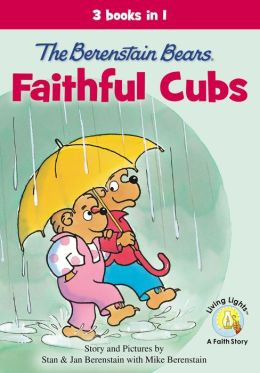 This three-book collection of the popular Berenstain Bears Living Lights™ stories will provide children with an ideal gift they will enjoy all year long. The biblical values, morals, and life lessons are invaluable for children throughout every stage of their lives.
Titles include:
The Berenstain Bears Do Their Best:
The cubs want to enter a kite-flying contest. Papa and Mama both help the cubs as they build a homemade kite. Will they build the best kite?
The Berenstain Bears Discover God's Creation:
What happens when Mama Bear tells the cubs there is more to life than their favorite television shows? Join the Bear cubs as they explore the Bear Country community and realize that God's creation is better than any show on TV.
The Berenstain Bears Learn to Share:
Sister learns that God wants us all to share the good things he has provided, whether it be toys or good times with friends and family.
Written in catchy rhyme, "Faithful Cubs" contains three stories that are sure to capture the attention of your young readers (age 4-8). Although these stories are not part of the popular "I Can Read!" format, my girls (in grades 1 and 2) had no problem reading through all three of these stories. They enjoyed the lively and colorful pictures as they were reacquainted with Brother and Sister bear as they learned important lessons on life. Without even realizing it, my children were learning lessons about sharing, working hard and not giving up, and enjoying God's creation and not spending all summer cooped up in front of the television! The stories are well-written and easy to follow, and though they do lack some of the humour that other Berenstain Bears stories contain, they still held my children's attention. "Faithful Cubs" also offers excellent value for money spent, as three different stories are included in this hardback book, making it a book with something for everyone. My children have already been wanting to read this book over and over, whether together or on their own, and it has earned a permanent place on our book shelves.

Families looking for a book that will entertain little minds while imparting important truths will want to plan on adding "Faithful Cubs" to their collection of children's stories. I, and my children, give this book a solid rating and award it 4 out of 5 stars.

A review copy was received from the publisher in exchange for an honest review. I was in no way compensated for this review.


Stan and Jan Berenstain introduced the first Berenstain Bear books in 1962. Mike Berenstain grew up watching his parents work together to write about and draw these lovable bears. Eventually he starteddrawing and writing about them too. Though Stan died in 2005, and Jan in 2012, Mike continues to create the delightful Bear adventures from the family home and studio in Pennsylvania, in an area that looks much like the sunny dirt road deep in Bear Country.
Find out more about the book on the publisher website: http://zondervan.com/9780310735045