Absolutely hilarious! My review of "Dolled up to Die" by Lorena McCourtney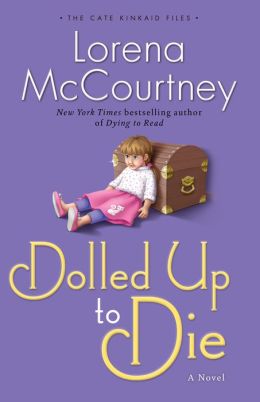 Cate's not sure just what she expected . . . but she knows it certainly wasn't this.

When Cate Kinkaid receives a frantic call about a triple homicide, she drives to the scene against her better judgment--aren't triple homicides more up the police department's alley?--only to find that the victims are not quite who she expects. Now she has a new rule to add to everything she's learned in her short stint as an assistant private investigator: always find out if the victims have human DNA. Because these three do not.

But who would shoot this nice lady's dolls? What possible reason could the shooter have? And then there's the startling discovery of another victim, who definitely does have human DNA . . .

With tension that is matched only by humor, Dolled Up to Die is the exciting second book in Lorena McCourtney's Cate Kinkaid Files. You won't find a place to stop and take a breath in this fast-paced story.
Lorena McCourtney has done it again! Written with her signature humorous style, "Dolled up To Die" had me in stitches chapter after chapter, just as with the first book in the series, "Dying to Read". Cate Kinkaid continues to captivate me with her gutsy determination to solve murders, along with some bumbling attempts and misguided notions that made for some truly funny scenes. The book is filled with action-packed drama and had me zooming through the pages. I couldn't put it down because I simply had to find out what Cate would try next! Along with laughs and some true moments of suspense, the novel also celebrates the meaning of true friendship, even when it pushes us out of our comfort zones. The author also manages to present a clear gospel message without coming across as pushy. The dialogue is witty, and there is just enough romance without becoming too mushy for male readers. As such, both females and males will enjoy Cate's latest adventure!

I dare you to read this book without at least cracking a grin. If you are looking for an enjoyable suspenseful read, then pick up a copy of "Dolled up to Die". You'll be glad you did! 4.5 out of 5 stars.

Book has been provided courtesy of Baker Publishing Group and Graf-Martin Communications, Inc. Available at your favourite bookseller from Revell, a division of Baker Publishing Group.


Lorena McCourtney
is the
New York Times
bestselling and award-winning author of dozens of novels, including
Invisible
(which won the Daphne du Maurier Award from Romance Writers of America) and
Dying to Read
. She resides in Oregon.