GIVEAWAY and review of "Bash and the Pirate Pig" by Burton Cole
Have I got a treat for you! If you've been looking for a new read for your children (ages 8-14), then read on (and remember to enter the giveaway at the end!)...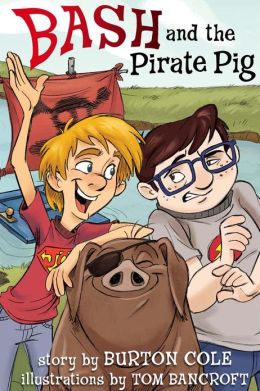 Bash and the Pirate Pig, by Burton Cole, is the story of a cranky city kid named Raymond "Beamer" Boxby who must spend summer vacation at his younger cousin, Bash's, farm.
Beamer prefers air conditioning and video games. He can't see what good can come of this so-called country fun that includes riding cows, river rafting with a pig, or playing with skunks.
But hang tight, Beamer, because Bash's zany adventures with his "Fishin' and Farmin' book" (The Bible) just might lead to the coolest discovery of all.

Filled with laugh-out-loud moments and original characters, "Bash and the Pirate Pig" offers up a unique read for your pre-teen children. While primarily aimed at the male audience, I have no doubt that both girls and boys will appreciate the non-stop action contained in the pages of this book. The characters are absolutely full of life, and young readers are sure to have their attention captured from start to finish. I should warn you that your children may come up with all sorts of crazy ideas to try out after spending time with Raymond Boxby and Bash Hinglehobb. In fact, you may want to hand a copy of the book to your children with the disclaimer that they need to ask you before acting out any of Bash's wild ideas! However, you can also be confident that your children will walk away with a clear gospel message that is cleverly woven into the story, including an example of a prayer that children (or their parents) can pray in giving their life to Jesus. Other valuable lessons include appreciating the gift of friendship, or learning about the importance of prayer.

"Bash and the Pirate Pig" is not only an entertaining book that will have your children smiling or out-right laughing, but it is also full of eternal truths that make this story worth reading more than once. I strongly recommend this book and award it 4 out of 5 stars.

Disclaimer - I received a free copy of this product from FlyBy Promotions and B&H Kids in exchange for my honest opinion shared in this review. I was not required to write a positive review. All opinions expressed are my own or those of my family. I'm including this disclaimer in accordance with FTC Guidelines and Regulations.
Burton Cole is a Pulitzer Prize nominated journalist with thirty years of experience and more than fifty humor writing awards to his credit. He grew up on a farm in northeast Ohio and attended a small-town church with a slew of cousins and buddies. That same boyhood inspires his colorful stories today.
Tom Bancroft has more than twenty years of experience in the animation and illustration industry and worked with Disney on films including Beauty and the Beast, The Lion King, and Aladdin. Other clients have included DC Comics and Big Idea Productions.
Ready to purchase?


And now for the giveaway :)
a Rafflecopter giveaway