Sure to please your young children: My review of "Bumper Wipe Clean Activities" @KregelBooks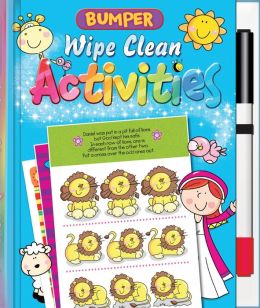 Combining entertaining activities with Bible Stories, "Bumper Wipe Clean Activities" should be at the top of your list to buy for your children! The book features a myriad of different things for your children to do, such as activities like connect the dots, doing mazes, tracing numbers and letters, or matching different objects. The best part is that Bible stories like David guarding the sheep from wild animals, the story of Jonah, or many events from Jesus' life are woven into the pages of the book.
My children absolutely LOVE our copy of this activity book! The pictures are colourful and pleasing to the eye, and the activities have literally kept them engaged for hours on end. The book is a sturdy hardcover binding and comes with a pen that easily wipes clean from the pages of the book. As a result, all of my children have had the opportunity to take a turn doing the activities of this book. The words are easy enough for children in grade 1 or 2 to read on their own, or you can help your preschooler work through the stories and activities as well. What I most appreciate about this book is that it gives my children the opportunity to engage with the Bible stories in a way they never have before.
I highly recommend this wonderful children's book and award it 4.5 out of 5 stars.
A copy of the book has been provided courtesy of the publisher for the purposes of this unbiased review.
Meet the Author & Illustrator
Juliet David has written many children's stories and Bible activity books. Her other interests include painting, music, and travel to Israel and other Bible lands. This experienced author lives in London with her family.
Marie Allen grew up drawing characters and illustrating fun books for friends and family, and her dream was to someday publish a children's book. She has studied graphic design and illustration and gained experience working on stationery, puzzles, greeting cards, maps, and posters, as well as numerous children's books. She lives in Manchester, England.