Gripping Suspense! My review of "Fatal Tide" By Lis Wiehl & Pete Nelson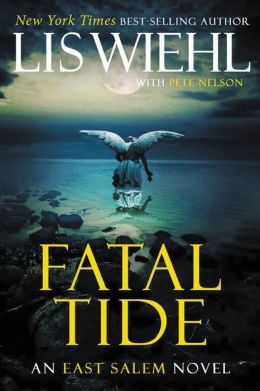 In East Salem, the elite St. Adrian's Academy is at the nexus of a swelling satanic apocalypse—and the fatal tide is already rising from the darkness.
When Hieronymus Bosch's Garden of Earthly Delights is reunited with the pagans who commissioned it, a dark prophecy begins to unfold in East Salem, beginning with a savage double-murder by hellish creatures straight out of the painting itself. The lone survivor of the attack, a seventeen-year-old Brit, finds sanctuary at Tommy Gunderson's home—and the place is soon surrounded by demons who seem to be biding their time…but for how long?
Tommy's pond has been contaminated with Provivilan—an insidious drug that could transform New York City's children into an army of violence-addicted murderers. But for an occult cabal in the upper echelons of Linz Pharmaceuticals, contaminating the water supply is just part of an ancient conspiracy against all of humankind.
As the clouds gather, Tommy and Dani realize they must infiltrate Linz and St. Adrian's to stop the dissemination of Provivilan. Even then, it could take a tangible eruption of the battle between angels and demons to save humanity from the supernatural evils that have been summoned to East Salem.

Gripping suspense, supernatural battles between angels and demons, and intriguing characters make "Fatal Tide" a strong addition to the "East Salem" series. Tommy and Dani return to continue their fight against the evil that has infiltrated the town of East Salem. Their relationship continues to grow in leaps and bounds, and the thread of romance in this novel is sure to please many readers. As with the prior novels in the series, I greatly enjoyed the witty dialogue that sparks between Tommy and Dani in particular, making me laugh out loud in several places, although many other characters also spouted snappy lines. The story is fast paced, with plenty of action and lively scenes that crackle with tension, such that the novel played out like a movie across my mind. I will say that the final battle between angels and demons in the book seemed a little anti-climatic to me, as it was quickly over with no real explanation of why the ones who triumphed did so in such an easy manner. However, even though things wrapped up maybe a little too neatly at the end, the overall ride was just plain fun, and I am left hoping for more from the skilled writing due of Lis Wiehl and Pete Nelson!

Fans of the first two novels in the series will definitely want to plan on getting their hands on a copy of Fatal Tide. And if you haven't yet taken a chance on these books, well, what are you waiting for?

I award this book a solid recommendation and a rating of 4 out of 5 stars.

A review copy was received from the publisher in exchange for an honest review. I was in no way compensated for this review.


PLEASE NOTE: Due to some publishing delays, this title will now be published on October 1, 2013. However, be sure to pre-order the book following the links below! :)
Lis Wiehl is a New York Times best-selling author, Harvard Law School graduate, and former federal prosecutor. A popular legal analyst and commentator for the Fox News Channel, Wiehl appears weekly on The O'Reilly Factor, Lou Dobbs Tonight, Imus in the Morning, Kelly's Court, and more.
Pete Nelson is the co-author of Waking Hours as well as the author of Left to Die which won the 2003 Christopher Award. He was listed in the Esquire Register of Best American Writers and nominated for an Edgar Award.
Find out more about the book on the publisher website:
http://www.thomasnelson.com/fatal-tide.html