A delightful children's book! GIVEAWAY & My review of "Audrey Bunny"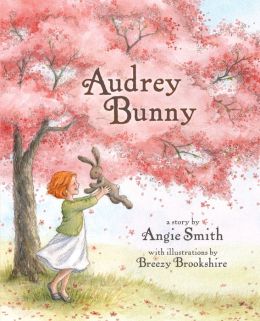 From best-selling women's author Angie Smith (
I Will Carry You, Mended
) comes this sweet children's book about a stuffed animal named Audrey Bunny who fears her imperfections make her unworthy of a little girl's love. She'll learn the truth soon enough, and young readers will learn that everyone is special and wonderfully made by God.
The best way to describe "Audrey Bunny"? Simply delightful! The moment the book came into my home, my daughters clamored to be the first to read it! They oohed and aahed over the wonderful illustrations, which are colorful and filled with life. The drawings are a perfect match for the story that accompanies them, and my girls thought the bunny was so adorable they wish they had that same stuffed animal in real life - smudge and all! The little girl, Caroline, who stars in the story along with Audrey, is a sweet little girl who helps Audrey learn an incredibly important life lesson: she is wonderfully made, just the way she is. The story is well-written, and my children had no problem following the story line and grasping the deeper truths of the story, that they themselves are beautiful and wonderful, complete with their flaws, and that God loves them the way they are! As a parent, I really liked the "parent connection" at the end of the book, which includes some discussion questions and activities that relate to the story. I went over the questions with my own children, and they were easily able to articulate the truths contained in the pages of the story. Overall, this story will be a blessing not only for the children the book is written for, but also for the parents or grandparents who read the book along with them! We can all use a reminder that we have been wonderfully made by God!
I am always a big fan of stories that not only capture my children's attention, but teach them God's truth at the same time. I highly recommend this story and award it 5 out of 5 stars.
Disclaimer - I received a free copy of this product from FlyBy Promotions and B&H Kids in exchange for my honest opinion shared in this review. I was not required to write a positive review. All opinions expressed are my own or those of my family. I'm including this disclaimer in accordance with FTC Guidelines and Regulations.
about the author & illustrator....
Angie Smith is the wife of Todd Smith (lead singer of Dove Award winning group Selah), best-selling author of Mended, I Will Carry You, and What Women Fear, and one of the most popular speakers and blog writers in the country. She holds a Master's degree in Developmental Psychology from Vanderbilt University and lives with her husband and daughters in Nashville, TN.
Breezy grew up in Indiana where she enjoyed, among many things, nature walks, reading, and drawing characters from her imagination. Being home educated allowed her the time to cultivate her interest in illustration. She was mostly self-taught in drawing.
At age seventeen, she began selling her art prints in her Etsy shop, The Breezy Tulip Studio, where she offers quality art prints and note cards that bring a delightful purity to scenes of children exploring nature, delving into books, and enjoying wholesome family life.
Nurturing children with beauty, goodness and truth as it is only found in God's Word is at the core of Breezy's vision for her art. She is currently working on a few children's products, and shares a home studio with her sister, Emily Rose. Breezy is a 22-year-old follower of Jesus Christ, and lives in Indiana with her sister and parents.
AND NOW FOR THE GIVEAWAY
open to Americans & Canadians :)
a Rafflecopter giveaway