Another winner from Mercer Mayer: "It's True" @DailyVineCA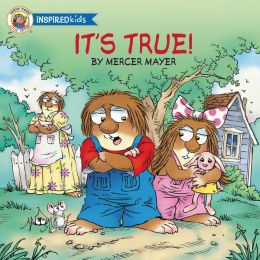 Join Little Critter®as he learns why it's important to tell the whole truth—and not just partof it.
Since 1975, Mercer Mayer has been writing and illustrating stories about a little ball of fur named Little Critter and the antics he stumbles into while growing up. Thomas Nelson is thrilled to bring this beloved brand to the Christian market with the launch of Inspired Kids, a new line of faith-based books featuring Little Critter.
Little Critter thinks that sometimes it's easier to tell part of the truth instead of the whole truth. In this second book in the Inspired Kids line, Little Critter learns quickly that lying has consequences and that telling the truth, no matter how hard, is always the right thing to do.
Being a completely perfect parent, I have succeeded at teaching my children to NEVER lie.

Well, perhaps that's not the entire truth.

If you, like me, would like all the help you can get in teaching timeless values to your children, then go get a copy of Mercer Mayer's new release, "It's True". Featuring the characters we've all grown to love, children will be entertained so thoroughly they won't even realize they are absorbing important truths as well! The pictures are bright and engaging, and the story will be sure to capture the attention of the most restless youngster. My children loved finding the spider and mouse that accompany Little Critter on every page, and they listened wide-eyed as Little Critter made some poor choices to lie - and was caught in a bind as a result! I found that the story created some great discussion opportunities with my children, as we were able to talk about the consequences of lying and how easy it is to stretch the truth and get found out, something that can not only make for some embarrassing moments, but grieve God as well. I like the fact that Little Critter ends up taking responsibility for his choices, demonstrating the importance of not running away from our mistakes, but facing them head on with God's help. In my opinion, that makes this book a winner!

I continue to be pleased that Thomas Nelson has chosen to create the Inspired Kids line, and I look forward to future antics from Little Critter that will capture my children's attention while imparting life lessons along the way. 4 out of 5 stars.

A review copy was received from the publisher in exchange for an honest review. I was in no way compensated for this review.


Mayer is the writer and illustrator for Little Monster®
and Little Critter® books. He began writing and illustrating children's books in 1966 and since that time, he has published over 300 titles. Mayer currently lives in New England with his wife Gina, who co-wrote many of the popular
Little Critter® books. He has four children and two grandchildren.
Find out more about the book on the publisher website:
http://www.thomasnelson.com/it-s-true.html