Drama at its very best! My review of "Samson" by Shawn Hoffman @DailyVineCA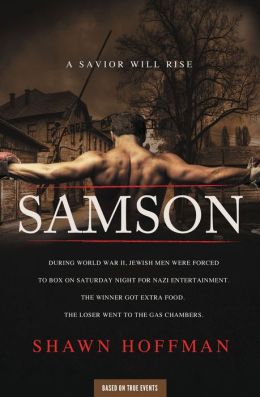 During World War II, Jewish men were forced to box on Saturday night for Nazi entertainment. The winner got extra food. The loser went to the gas chambers.
The year is 1943, and Samson Abrams has just made a life or death decision, coming to the aid of a young Jewish boy being beaten by the Nazis. Before long, Samson's entire family must board the train to Auschwitz.
As they arrive at the camp, Dr. Joseph Mengele, a man who will later go down in history as a person of pure evil, oversees the "selection" process. The young, weak, and elderly are all sent to their deaths. Samson tries to attack, but is calmed by Maximilian Kolbe, a Catholic monk also at the camp. For Samson, all of this evil reaffirms his belief that there is no God.
Samson is soon recognized as a 1936 Olympic boxing participant and is offered a deal: he can box for his life, but if he loses, he will find himself on Mengele's experimental operating table.
Adding to the complexity is the slow renewal of Samson's faith through his relationship with Kolbe. Here, he must somehow reconcile with God while he witnesses the violent, tortured deaths of so many.
A historic battle ensues with Hitler, Himmler, Höss, and many of the highest ranking officials in the Nazi Party watching... an incredible final fight which culminates in Mengele himself getting in the ring.


"Samson" is an incredible read, weaving faith into a heart-breaking tale that I found impossible to put down. Samson Abrams is a character like no other, a man who finds himself at the mercy of Dr. Joseph Mengele in Auschwitz, and one who must watch his family die before his very eyes. The book is very well written, drama at its very best, with scenes that played across my mind in vivid detail. Samson's struggles to survive and his determination to succeed for the sake of his family utterly inspires, and knowing that the story is based on true events makes it all the more gripping. Many of the scenes are gruesome as they depict events that are difficult to even imagine. This book reminds me that evil is alive and well in the world around us, yet it also reminds that God will prevail. Some of the conversations that take place between Samson and a priest at the camp, Kolbe, have stuck with me well beyond the final page, as I ponder the place of suffering in the world and how that fits with who God is. And, the triumph that readers are left with, despite the ending of the book, is a wonderful reminder of God's love and grace to sustain our spirits no matter the circumstances in our lives. Be prepared to give up a few hours of your life as you devour this book, and expect a few tears along the way!

Filled with deep emotion, and written at an unstoppable pace, "Samson" is a "must-read" for this fall. I give it my highest recommendation and a rating of 5 out of 5 stars.

A review copy was received from the publisher in exchange for an honest review. I was in no way compensated for this review.


Shawn Hoffman is an actor, screenwriter, and producer whose credits include landing a leading role in Broadway's The Survivor, serving as a producer on the NBC show The Apprentice, and appearing in films and TV shows for Lion's Gate Studios, Disney, NBC, ABC, CBS, FOX, and MTV. Over the last ten years, Shawn has written and sold ten screenplays, including for the movie adaptation of Samson, and his film Hometown Legend won several festivals.
Find out more about the book on the publisher website:
http://www.thomasnelson.com/samson.html