A taut, absorbing read: My review of "The Church Builder" by A.L.Shields @DailyVineCA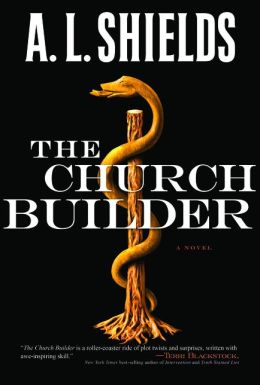 A murder conviction is the least of her worries.
For two months, attorney Bethany Barclay has been mourning the hit-and-run death of her enigmatic best friend since college, Annabelle Server. Then, her wealthiest client's son is found shot to death in her kitchen and all the evidence points to her as the murderer. Now, Bethany must run for her life as she desperately tries to prove she's innocent.
But there is much more at stake than even her freedom.
In this fast-paced thriller, a cult wages a secret war to derail Christianity as the world knows it. The final outcome relies on one woman's ability to piece together the last three months of her best friend's life.
A. L. Shields has written a taut, absorbing read in "The Church Builder", a book full of twists and turns as Bethany Barclay races to uncover the secrets that have forced her to be on the run. The story moves along well, although at 432 pages it's a lengthy read. There were several moments that I didn't see coming, and the author kept me guessing as to who were the good folks and who were the bad. Along with the action-packed scenes that drive the story forward, the characters are well-developed, and Bethany is sure to invoke your sympathies as her life is upended. The glimpses we are given into her past are utterly intriguing, and I appreciate the complexity of her character, her journey of faith, and her determination to succeed. One of the main villains in this book, "The Professor", is particularly well portrayed, and I thoroughly enjoyed his scenes and his chilling perspective on life. The author uses some interesting writing techniques as he switches writing perspectives, allowing us to get into the minds of the characters in a unique manner.

I definitely enjoy a well-plotted novel of grand conspiracies reaching back through the ages, and this is one of them! "The Church Builder" is written with a sure hand, and readers are sure to enjoy this suspenseful read. I'm curious to see where the author is going next with this series, and am greatly anticipating the next installment. A solid read, I award this book 4 out of 5 stars.

A review copy was received from the publisher in exchange for an honest review. I was in no way compensated for this review.


A. L. Shields is a pseudonym for Stephen L. Carter, William Nelson Cromwell Professor of Law at Yale, where he has taught for thirty years. He is also the author of seven acclaimed works of nonfiction and five bestselling novels. His first novel, The Emperor of Ocean Park (2002), spent eleven weeks on the New York Times best-seller list. His most recent novel, The Impeachment of Abraham Lincoln, was published in July of 2012.
Find out more about the book on the publisher website:
http://zondervan.com/9780310332114