Another winner from Elizabeth Camden: My review of "Against the Tide"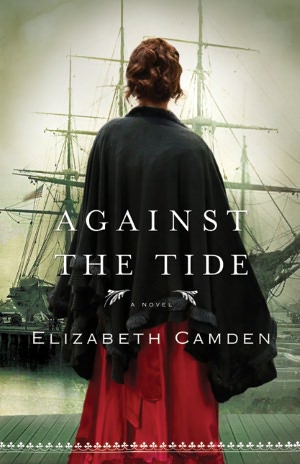 After a childhood rampant with uncertainty, Lydia Pallas has carved out a perfect life for herself. She spends her days within sight of the bustling Boston Harbor, where her skill with languages has landed her an enviable position as a translator for the U.S. Navy.

Lydia's talents bring her to the attention of Alexander Banebridge, a mysterious man in need of a translator. Driven by a campaign to end the opium trade, Bane is coolly analytical and relentless in his quest. He cannot afford to fall for Lydia and must fight the bittersweet love growing between them.

When Bane's enemies gain the upper hand, he is forced to turn to Lydia for help. Determined to prove her worth, Lydia soon discovers that carrying out Bane's mission will test her wits and her courage to the very limits.

When forces conspire against them from without and within, can their love survive?

Once again, Elizabeth Camden has succeeded at spinning a tale that held me spellbound, with a character who captured my heart from the first chapter. Lydia's life unfolds with heart-breaking reality, and I found myself instantly sympathetic to her history of losing her family and being forced to live in an orphanage. I loved Lydia's pluck and determination to make something more of her life, and found it interesting how the author wove together a reasonable explanation for Lydia's command of many languages and her rise to an important position as a translator. I was equally glad to become further acquainted with the character of Bane, who appeared in the author's first book, The Lady of Bolton Hill. The interactions between Bane and Lydia resulted in many enjoyable moments as they bantered back and forth with sharp wit, and I felt that the relationship unfolded between them with just the right touch of romance. The creepy professor again made for a fascinating villain, as in the first book he appeared in, with his technique of kidnapping children to ensure the cooperation of their parents to further his opium trade. The suspense that unfolds between Lydia, Bane, and the professor had me fighting against the urge to flip to the end of the book to see how it all turned out, but I managed to refrain and so enjoyed how everything unfolded. And who knew that opium was a significant ingredient in tonics given to children in orphanages? I love learning new historical details like that and thought it made an intriguing addition to the plot of the novel!

The author has truly won a place on my list of authors to watch, and I look forward to more novels from her talented pen. I highly recommend this book and award it 5 out of 5 stars.

Book has been provided courtesy of Baker Publishing Group and Graf-Martin Communications, Inc. Available at your favourite bookseller from Bethany House, a division of Baker Publishing Group.
Elizabeth Camden, author of The Lady of Bolton Hill and The Rose of Winslow Street, received a master's in history from University of Virginia and a master's in library science from Indiana University. She is a research librarian by day and scribbles away on her next novel by night. Elizabeth is a member of ACFW and RWA and lives with her husband in Florida. Visit her website at ElizabethCamden.com