Something every Christian should read: My review of "Show Me How to Share Christ in the Workplace" by Moyer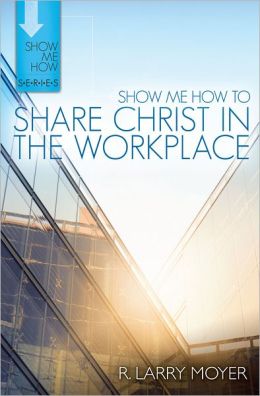 Seeking to dispel the myth many Christians believe, that Ministry is just for pastors and other people who officially serve in the church or mission field, Moyer offers up a book that is based on the truth that every one of us is in full-time ministry too, no matter our job. The author shows readers how and why to pray, how to tell others about Jesus in clear terms, how to turn conversations to spiritual matters, or how we disciple those who turn to Christ. He also includes an appendix that demonstrates exactly how to walk someone through the steps to belief in Salvation in Jesus Christ.
"Show me how to Share Christ in the Workplace" is a wonderfully practical book that every Christian intent on spreading the gospel should commit to reading. At just under 200 pages, it is an easy read, and one that is written in a thoroughly understandable manner. The book is chock-full of scripture, covering topics of prayer and discipleship and evangelism by drawing upon the truth of God's word. I found the book to hold my interest from start to finish, even though I usually prefer to read fiction books, and I plan on implementing many of the suggestions in my own life. For people who can wonder exactly what to say when opportunities arise to talk about spiritual issues, this book will provide a good foundation to lead others to Jesus, as guided by the Holy Spirit in doing so.
I strongly recommend this book for believers from all walks of life, for those who have been Christians for many years and for new followers as well. Readers may choose to read the book on their own, or perhaps with an accountability partner or a small group of believers. All are sure to benefit from the wisdom contained in it's pages! 4 out of 5 stars.
Book has been provided courtesy of the publisher, Kregel Publications, for the purposes of this unbiased review.
R. Larry Moyer (Th.M., Dallas Theological Seminary) is president and CEO of EvanTell, Inc., an evangelistic association in Dallas, Texas, and is a speaker at evangelistic outreaches, training seminars, and in classrooms across the country. His other books include Free and Clear, Larry Moyer's How-To Book on Personal Evangelism, Thirty-One Days with the Master Fisherman, and Welcome to the Family (by Evantell).