Romantic suspense the way it was meant to be written: GIVEAWAY & my review of "The Breath of Dawn" by Heitzmann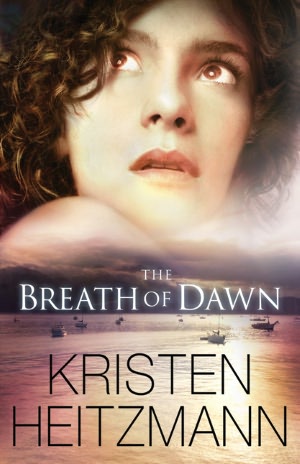 Corporate turnaround specialist Morgan Spencer, dubbed the "success guru," has a Midas touch in business. But losing his wife sent him to the brink, and his two-year-old daughter, Livie, is all he's living for--until they encounter a woman whose trouble just might draw him out of his own.

Four years ago Quinn Reilly did the right thing. Now the man her testimony put in jail is getting out. Though she has put up barriers to protect herself and those around her, she has come to care for the Spencer family, especially the winsome Livie and her mercurial father. Unwilling to put them at risk when the threats begin, she requests something she hopes the super-successful Morgan might be able to deliver.

Fixing problems is what Morgan does best, but his counter-proposal takes them in a direction neither is equipped to handle. Determined to confront the past, will they survive to build a future?
Kristen Heitzmann has delivered a thoroughly enjoyable romantic suspense novel in "The Breath of Dawn". Her novel is equally devoted to both character development and to the unfolding suspense, and so is sure to appeal to readers who love either genre of romance or thrillers. Quinn is a spunky, likable gal who's big heart and past shrouded in secrecy had me immediately hooked into her story-line. The romance that develops between Quinn and Morgan lends itself to moments of humor and deepening love, and I greatly appreciated that this was not one of those books where the romance took eons to develop! The suspense scenes star an antagonist who is truly misguided and delusional, with supernatural elements that make him truly evil, though please be assured that the author does not write in a way that will gross any reader out. The last few chapters had me flying through the pages to see how everything would resolve, and I guarantee that the conclusion will be pleasing to all. New love, a crazed man bent on revenge, adorable children, great characters, all permeated by faith - this book has it all!

I highly recommend this book and award it 5 out of 5 star.
Book has been provided courtesy of Baker Publishing Group and Graf-Martin Communications, Inc. Available at your favourite bookseller from Bethany House, a division of Baker Publishing Group.
Kristen Heitzmann is the bestselling author of over a dozen novels, including Freefall, Halos, A Rush of Wings, and the Christy Award winner Secrets. She and her husband, Jim, and their family live in Colorado Springs, Colorado, where she serves as worship leader in their church. Visit Kristen's Web site at www.kristenheitzmann.com
And now for the giveaway....
I am giving away 1 copy of "The Breath of Dawn" to readers from the U.S. and Canada, courtesy of the publisher, Bethany House,
and Graf-Martin Communications, Inc
You can get 1 entry into the giveaway for each task you perform:
1. Become a follower of my blog (through Google Followers or Networked Blogs) then leave a comment confirming you became a follower. If you are already a follower, just leave a comment that you already follow and I'll give you 1 entry for that.
2. "Like" my Facebook page, and let me know you did so in a comment. (The link is at the top of the webpage). Let me know if you've already liked it, and I'll give you an entry.
3. Post about the giveaway on your own blog or on twitter or facebook and leave me a comment. You get 1 entry for each method of spreading the word!
4. Leave a comment answering the following question: "What is your favorite romantic suspense novel?"
++ Please include your email address in your comment so I can contact you to arrange to get the book in the mail to you.
That's all there is to it. Contest Ends December 15, 2012.
Good luck!