"Come to the Table" by Neta Jackson: My review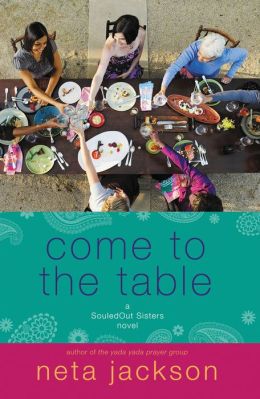 Kat Davies is suddenly wondering if her good deed was a bad idea.

Kat may be new in her faith, but she's embraced the more radical implications of Christianity with reckless abandon. She invited Rochelle, a homeless mother, and her son to move into the apartment she shares with two other housemates. And she's finally found a practical way to channel her passion for healthy eating by starting a food pantry at the church.

And her feelings for Nick are getting harder to ignore. The fact that he's the interning pastor at SouledOut Community Church and one of her housemates makes it complicated enough. But with Rochelle showing interest in Nick as a father-figure for her son, their apartment is feeling way too small.

But not everyone thinks the food pantry is a good idea. When the woman she thought would be her biggest support just wants to "pray about it," Kat is forced to look deeper at her own motives. Only when she begins to look beyond food as an issue does she see people who are hungry and thirsty for more than just food and drink and realizes the deeper significance of inviting them to "come to the table."

Kat must do some serious soul searching to determine where God is asking her to use her talents and passion . . . and what role she wants to play in Nick's life.



Neta Jackson's second installment of the "SouledOut Sisters" series shines with grace, and challenges readers to consider how we can serve others like Jesus did. Characters Kat and Nick return in fine form, growing in their understanding of who they are, who God has called them to be, and the possibility that they may have a future together! I love how the author creates characters with emotional depth, and I especially enjoyed watching Kat on her spiritual journey in this book, a woman who gets so passionate about her beliefs and sometimes runs ahead of what God may have for her.

Come to the Table is sure to please readers who are already fans of Neta Jackson, and will likely attract new readers as well. The book is well-written, and I felt that overall the book moved along at a good pace. I don't always have patience with books where the romance takes a long time to unfold, but in this case the author has added some interesting elements that kept things moving well, such as roommate Rochelle and her desire to have a man like Nick be a good father to her son. The book features characters that readers will connect with, characters who struggle with the things in life that we all struggle with. I leave the book absolutely challenged to look at the world around me and consider how God wants me to be his hands and feet, how he wants me to "feed" others by meeting both their physical and spiritual needs. I leave thankful for time well spent in having been entertained while having my own spiritual life fed as well.

I award this book 4.5 out of 5 stars.
Book has been provided courtesy of the publisher, Thomas Nelson, for the purposes of this unbiased review. ***Special thanks to Rick Roberson, The B&B Media Group, for sending me a review copy.***
As a child growing up on the campus of a Christian school where her parents taught, Neta Jackson began creating imaginary worlds at a young age. Loving horses but not having one, she wrote stories about them instead. By the time she reached high school, she had so honed both imagination and writing skills that when her English teacher submitted one of her stories to a Scholastic magazine writing contest, it won first place. With that first win, Jackson knew beyond the shadow of a doubt she wanted to be a writer. She's been writing ever since.
After marrying the love of her life, Dave Jackson, the couple chose to settle in the Chicago area where Neta had attended college. Throughout their marriage, the Jacksons have worked together as a team, writing a multitude of books together on topics ranging from medical ethics to stories of gang kids, sometimes sharing the task with other experts who have served as co-writers. Together, they have also penned forty historical fiction accounts of Christian heroes, called the Trailblazer Books, along with another five-volume series called Hero Tales: A Family Treasury of True Stories from the Lives of Christian Heroes.
These days, both are busy penning their own works of adult fiction. Jackson began her individual effort in 2003 with the Yada Yada Prayer Group series, inspired by her real-life Bible study group, a multi-cultural gathering of dynamic women who have played an important role in her life for over fifteen years. Since publication of the first Yada Yada Prayer Group novel, the seven-book series has sold over a half-million copies and given rise to countless prayer groups across the country and the publication of a personal prayer journal for prayer group participants. In 2008, Where Do I Go?, her first book in the four-book House of Hope series, was published. The second book in the series, Who Do I Talk To?, won a Christy Award in 2010 for excellence in Christian fiction. Recently, the fourth book of the series, Who Is My Shelter?, was nominated for Best Inspirational Novel for 2011 by RT Book Reviews. Stand by Me is the first in Jackson's new SouledOut Sisters series.
The Jacksons have been married 45 years and have raised two children plus a Cambodian foster daughter. They continue to live in urban Chicago where, together, they enjoy writing, gardening and spending time with their grandchildren.