A fantastic follow-up to "Soul's Gate": My review of Memory's Door by James L. Rubart @litfuse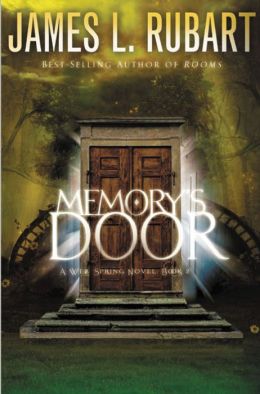 The prophecy brought them together—to fight for the hearts of others and set them free.

But the Wolf has risen, and now their greatest battle begins.


The four members of Warriors Riding have learned to wage war in the supernatural, to send their spirits inside people's souls, to battle demonic forces, and to bring deep healing to those around them.

But their leader Reece is struggling with the loss of his sight. Brandon is being stalked at his concerts by a man in the shadows. Dana's career is threatening to bury her. And Marcus questions his sanity as he seems to be slipping in and out of alternate realities.

And now the second part of the prophecy has come true. The Wolf is hunting them, and has set his trap. He circles, feeding on his supernatural hate of all they stand for. And he won't stop until he brings utter destruction to their bodies . . . and their souls.
"Memory's Door" is a fantastic follow-up to the ground-breaking "Soul's Gate", and I enjoyed the book from start to finish. I loved getting reconnected with the four members of the "Warriors Riding" as Reece, Brandon, Marcus, and Dana battle the darkness to offer freedom and hope to hurting people. As with "Soul's Gate", the book is fast-paced and filled with scenes of intense drama and spiritual warfare that left me feeling marvelously entertained. The characters are complex and unique, and their individual pasts and struggles in the present make them characters readers will be able to relate to.

What I most loved about this book is the way the author looks at issues of regret and forgiveness, how we can find deep healing for our souls and walk in freedom from fear or condemnation and from the grasp of legalism. I can freely admit that the scene near the end that takes place between Marcus and his wife left tears streaming down my face! I closed the book wishing I was reading fact, not fiction, and that these Warriors were real and able to do fabulous things like go into people's souls to battle darkness, teleport across the country, and other feats that are not normal happenings in our world! As with "Soul's Gate", I leave this book having had my faith stirred, and feeling a call to prayer as we truly do battle with the spiritual realm around us.

Regardless of the worldview or Christian denomination that readers subscribe to, "Memory's Door" is sure to not only leave you entertained, but leave you deep in thought as well. I highly recommend this book and award it 5 out of 5 stars.

ARC has been provided courtesy of Thomas Nelson & the Litfuse Publicty Group, for the purposes of this unbiased review.
I've been a professional marketer since 1994 through my company Barefoot Marketing, but my passion is writing fiction.
I'm also a photographer, guitarist, professional speaker, golfer, and semi-pro magician. I live in the Northwest with the world's most perfect wife and my two almost-perfect sons. No, I don't sleep much. You can catch up more with me at www.jimrubart.com or www.barefootmarketing.com.
This biography was provided by the author or their representative.
Check out what other people are saying as part of the Litfuse tour at:
Buy the book from Amazon.com: