Win a Kindle FIRE & see my review of the satisfying "Winter in Full Bloom" by Anita Higman
Enter to win a Kindle Fire
and check out my review of Anita Higman's latest book below: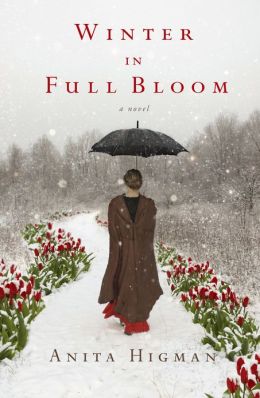 about the book...
Lily Winter's wings are folded so tightly around her daughter that when empty nest arrives, she feels she can no longer fly. But Lily's lonely, widowed life changes in a heartbeat when she goes to visit a woman who is almost a stranger to her-a woman who also happens to be her mother. During their fiery reunion, her mother reveals a dark family secret that she'd been hiding for decades-Lily has an identical twin sister who was put up for adoption when they were just babies.
Without looking back, Lily-with her fear of flying-boards a jumbo jet and embarks on a quest to find her sister which leads half way around the world to Melbourne, Australia. Befriended by imprudent Ausie, he might prove to be the key to finding her sister. But her journey becomes a circle that leads her back home to attempt a family reunion and to find the one dream she no longer imagined possible-the chance to fall in love again.
"Winter in Full Bloom" is a story with heart, a story of family secrets, new love, and the power of God's grace to bring about healing beyond what can even be hoped for. Lily Winter is a beautifully developed character who I absolutely loved watching grow from a place of having feelings of unworth, to fully discovering the woman God created her to be. The unexpected love that grows between Lily and Marcus is one that rings true, and I enjoyed the scenes of humour between them, along with the romantic moments and also difficult times they encountered along the way. For some reason, the family confrontation between Marcus and his parents didn't entirely sit well with me as it didn't seem realistic in the manner in which it unfolded. However, the wonderful scenes of reconciliation that occur in Lily's life were absolutely moving, and left me feeling inspired. There is much to celebrate in this story, and I enjoyed Anita Higman's writing style and the first person perspective the novel is written in, allowing us to experience life through Lily's eyes. The plot has a number of layers that merge together into a satisfying, unified whole. Readers are likely to close the final pages with a new hope for healing from the seemingly impossible challenges in their own lives.
I strongly recommend this well written contemporary novel, and award it 4 out of 5 stars.
Book has been provided courtesy of the publisher, River North (a division of Moody Publishers) and the Litfuse Publicity Group, for the purposes of this unbiased review.
Best-selling and award-winning author, Anita Higman, has over thirty books published (several coauthored) for adults and children. She's been a Barnes & Noble "Author of the Month" for Houston and has a BA degree, combining speech communication, psychology, and art. Anita loves good movies, exotic teas, and brunch with her friends.
Buy the book from Amazon


Anita Higman's latest novel, Winter in Full Bloom, has just released.
She's teamed up with her publisher, River North Fiction, for a fun giveaway and a Facebook Author Chat Party on August 29th
.
One grand prize winner will receive:
A Kindle Fire HD
Winter in Full Bloom by Anita Higman
Enter today by clicking one of the icons below. But hurry, the giveaway ends on August 28th.
Winner will be announced August 29th at the
Winter in Full Bloom Author Chat Party on Facebook.
During the party Anita will be hosting a book chat, talking about family, announcing the winner of the Kindle Fire, and giving away a ton of books, gift certificates, and more. Oh, and she'll also be giving party goers an exclusive look at her next book.
So grab your copy of
Winter in Full Bloom
and join Anita on the evening of August 29th for a chance to connect and make some new friends. (If you haven't read the book, don't let that stop you from coming!)
DON'T MISS A MOMENT OF THE FUN; RSVP TODAY. HOPE TO SEE YOU ON THE 29th!