Strongly recommended: My review of C.F. Dunn's "Death Be Not Proud"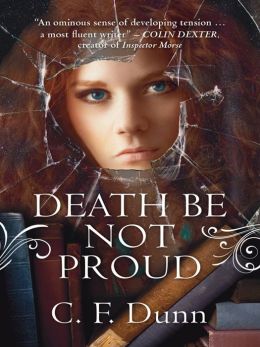 Professor Emma D'Eresby has fled her teaching position in Maine, following a life-threatening attack by a psychotic colleague, and has retreated to her parent's home in England. There, she seeks to find the determination to embrace life, while sorting through the implications of what she experienced and her complicated feelings for Matthew Lynes. When her parents invite a doctor to the home to assess her mental health, Emma learns that the doctor spoke to Matthew 30 years prior, sparking to life the suspicions that Emma has been harbouring about Matthew. Using the seventeenth-century journal she stole from the college's archives, Emma begins a search to uncover the secrecy shrouding Matthew's past. When Matthew suddenly shows up and they rekindle their feelings for each other, Emma must decide how to respond to the truth of who Matthew is.
I quite enjoyed this second installment in "The Secret of the Journal" series from author C. F. Dunn. The historical detail woven into the story was fascinating to read about, and I thought the author did an excellent job at revealing the truth about Matthew in a riveting manner that kept me glued to the pages. I began to imagine what it would be like to have someone like Matthew exist in real life, and the complications that would come along with being who he is (I don't want to say more for fear of ruining the plot for you!). The characters are wonderfully developed and very intriguing in their complexity. I do have to admit that the last quarter of the story slowed down in pace for me, and I thought that an attack that Emma suffered seemed somewhat tacked on to the story rather than developing as part of the main story arc, and it didn't seem overly believable to me that such a thing would occur and then get dealt with in the way that it did. However, I also know that there is a third book in the series, and I am trusting that it will make more sense why the attack became part of the plot. Overall, I continue to enjoy these characters and love the history and secrecy that is woven into the story, and I am definitely looking forward to what comes next for Matthew and Emma!
I strongly recommend this book and award it 4 out of 5 stars.
A copy of this book has been provided courtesy of the publisher for the purposes of this unbiased review.