Argh! PIRATES invaded my house! See my review of "Pirates on the Farm" by Denette Fretz @DailyVineCA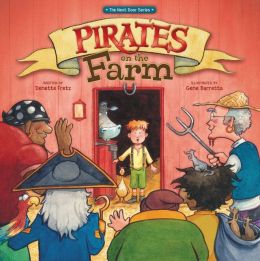 'No one ever imagined that five swashbuckling pirates would settle in our proper little southern community. But they did.'
When pirates move in next door, life on the farm is bound to get interesting. But will the unadventurous
Sanders family be able to handle the pirates' bad manners, ghastly grub, and outrageous antics? Or will they learn the importance of loving one's neighbor and help the graceless pirates find their 'land legs'?
If you have young children, like I do, then get ready to read "Pirates on the Farm" over and over again...because that's what I've been doing since the day it arrived at our house! Now, on the best of days, pirates are frequently in attendance at our home, with "Arghs!" resounding from children and parents alike. "Pirates on the Farm" pairs a unique plot with colourful and action-packed pictures, making it a winner. I will say that some of the words in the story weren't always understand by my children, but the handy definition guide at the end of the book allowed for some good learning for the children. I especially enjoyed how the definitions are written in the unique voice of one of the pirates! Not only will this story entertain, but it will also teach your children an important principal about not judging and excluding people based on their differences. The dad especially is a shining example of loving everyone, no matter what, and I loved his adventurous spirit!

Any book that gives my children the giggles while also sharing important truths is an absolute keeper, in my opinion. So, if you've been looking for a children's book that is chock-full of humour, unique characters, and teachable moments to share with your children, then look no further than "Pirates on the Farm". I highly recommend this book and award it 4.5 out of 5 stars.

A review copy was received from the publisher in exchange for an honest review. I was in no way compensated for this review.


about the author & illustrator....
Denette Fretz's passion is creating imaginative, engaging stories that help children understand and apply biblical principles. A veteran elementary educator, Fretz resides in Medford, Oregon with her husband, two teenage children, a sassy cat, and a spastic Jack-A-Bee
Gene Barretta is an award-winning children's book author and illustrator, animator and character designer. He graduated from New York University: Tisch School of Arts with a BFA in film studies. He currently lives with his family outside of Philadelphia.
Find out more about the book on the publisher website:
http://zondervan.com/9780310723486