A fun historical fiction read: My review of "At Every Turn" by Anne Mateer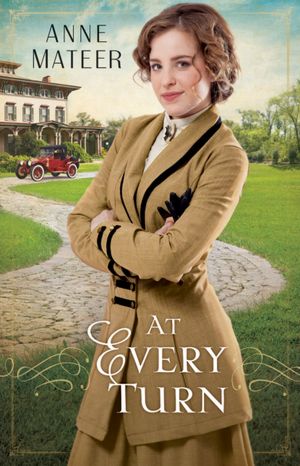 She's off to the races!
Caught up in a whirlwind of religious enthusiasm, Alyce Benson impetuously pledges three thousand dollars to mission work in Africa. Now she just has to find a way to get the money.
Alyce harbors a secret passion for speed and automobiles, and she's spent many an afternoon driving around the rustic track in the field behind her home. When she discovers that her father's company has sponsored a racing car that will compete in several upcoming events--races in which the driver will be paid and could win as much as five thousand dollars in prize money--she conspires with her father's mechanic, Webster, to train and compete.
But when her friends cast aspersions on Webster's past, she realizes she may have trusted the wrong person with her secret. Will Alyce come up with the money in time, or will she have to choose between her hasty promise and the man who holds a piece of her heart?
I can't help but love books with characters who are utterly unconventional, and this book meets that criteria to a T! Alyce is an absolute hoot with her naive intentions that simply seem to land her in trouble, along with her admirable quirks, including her love of driving cars at top speed, especially in an era where people were only just beginning to open up to the idea of women drivers. Anne Mateer's plot is a unique one that I haven't encountered before, and she does an excellent job of pairing a fun story idea with a character that you can't help but grow to care about. As I said, Alyce is a bit naive for a 22-yr-old, clearly sheltered by her upbringing, and not the most skilled at discerning people's true intentions. But her heart is absolutely golden, and the ending made me want to cheer, not just because it's a happy ending, but because Alyce experiences such genuine growth and grace that it's a delight to see!

I honestly enjoyed this book from start to finish, and give it a high recommendation and rating of 4.5 out of 5 stars. Fans of historical fiction will be especially pleased with Anne's latest offering, and I myself am looking forward to what she has in store next!
Book has been provided courtesy of Baker Publishing Group and Graf-Martin Communications, Inc. Available at your favourite bookseller from Bethany House, a division of Baker Publishing Group.
Anne Mateer is a three-time Genesis Contest finalist who has long had a passion for history and historical fiction. She and her husband live near Dallas, Texas, and are the parents of three young adults.Visit www.annemateer.com for more information.
From Amazon.com or Barnes&Noble.com