A smart police thriller that had my pulse racing: My review of "NYPD Red" by James Patterson & Marshall Karp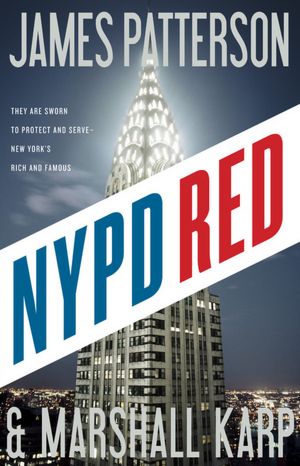 It's the start of Hollywood on Hudson, and New York City is swept up in the glamour. Every night, the red carpet rolls out for movie stars arriving at premieres in limos; the most exclusive restaurants close for private parties for wealthy producers and preeminent directors; and thousands of fans gather with the paparazzi, hoping to catch a glimpse of the most famous and beautiful faces in the world. With this many celebrities in town, special task force NYPD Red is on high alert-and they can't afford to make a single mistake.
Then a world-renowned producer fatally collapses at his power breakfast, and top NYPD Red Detective Zach Jordan is the first one on the scene. Zach works with his beautiful new partner, Detective Kylie MacDonald-who also happens to be his ex-girlfriend-to discover who the murderer might be. But this is only the beginning: the most brutal, public, and horrifyingly spectacular crimes they've ever encountered are about to send all of New York into chaos, putting NYPD Red on the ropes.
Zach and Kylie know there's no way of telling what a killer this deranged will do next. With the whole world watching, they have to find a way to stop a psychopath who has scripted his finale down to the last explosive detail.
James Patterson is at the top of his game with NYPD Red, a smart police thriller that had my pulse racing and my fingers churning through the pages until I reached the end. I honestly felt as if I were watching a movie unfold before my eyes, as the writing is so vivid! The plot is quick-paced and intriguing, with an antagonist, The Chameleon, who is perfectly psychotic and creepy, providing a fantastic chase of cat-and-mouse as Zach and Kylie race to stop him. I find that some books are so detailed on gruesome acts a killer carries out that I can scarcely read them; NYPD Red is not a book like that, but provides just enough detail to add to the suspense, while also appealing to a broad audience base. The dialogue is crisp, and the action expertly executed, and results in a thoroughly entertaining read.
Every so often I just want to pick up a fun book, one that isn't going to make me think to much or leave me feeling deeply emotional, and NYPD Red certainly fits that fun description, a book that is written with skill and will provide you with a few hours of enjoyment. I strongly recommend this book for readers who enjoy a good thriller and who have enjoyed past books by James Patterson. 4 out of 5 stars.
Book has been provided courtesy of the publisher, Hachette Book Group (Little, Brown and Company), for the purposes of this unbiased review.
+++Please note: This book contains numerous uses of bad language, and has a couple of mild sex scenes. If you are a reader who is offended by such things, then NYPD Red may not be for you. If you are a reader who is not offending by reading such books or watching a movie with similar elements where you can enjoy the show without being offended by language, then you will enjoy this book.
James Patterson has had more New York Times bestsellers than any other writer, ever, according to Guinness World Records. Since his first novel won the Edgar Award in 1977, James Patterson's books have sold more than 240 million copies. He is the author of the Alex Cross novels, the most popular detective series of the past twenty-five years, including Kiss the Girls and Along Came a Spider. Mr. Patterson also writes the bestselling Women's Murder Club novels, set in San Francisco, and the top-selling New York detective series of all time, featuring Detective Michael Bennett. He writes full-time and lives in Florida with his family.
Marshall Karp has written and produced numerous TV shows, plays and movies. He is the author of the Lomax and Biggs book series.