Certain to bless your devotional life: My review of "Prayers for Today" by Kurt Bjorklund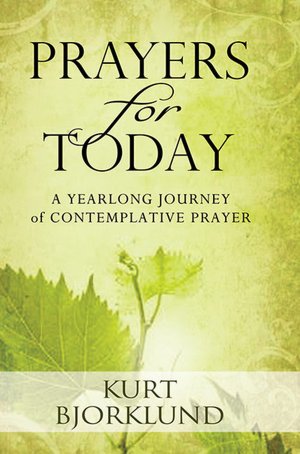 Offering 260 different entries, Kurt Bjorklund's book, "Prayers for Today", is an absolute treasure. Drawing upon meaningful scriptures and quotes of prayers from many different spiritual leaders from both the past and the present, the author seeks to guide readers into a deeper relationship with God, one marked by meaningful prayer. The daily readings have been grouped into several sections, including Prayers of Thanksgiving, Confession, Affirmation, Petition, Renewal, Prayer/Adoration, Intercession and Surrender, along with prayers for Christlike Character and for Wisdom/Guidance.
Prayers for Today is a fantastic collection of prayers and scripture, a book that has earned a permanent place on my book shelf. I have been both inspired and challenged by what I've read and prayed from this book, and my devotional life has been blessed as a result. Not only are the prayers eloquent and thought-provoking, but the follow-up section of questions that personalize the prayers is a highly useful tool to examine one's heart and draw close to God. The entries the author has chosen are meaningful and interesting, and I am positive that readers will be blessed by praying through this book.
I highly recommend this book for readers looking for some guidance in their prayer life, or who are looking for a gift for a love one in their life. 4.5 out of 5 stars.

I received this book free from Moody Publishers as part of their Blogger Review Program. I was not required to write a positive review. The opinions I have expressed are my own.


Ready to buy?