Top-notch suspense: My review of "Placebo" by Steven James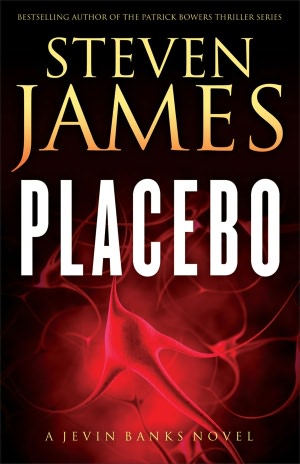 While covertly investigating a controversial neurological research program, exposé filmmaker Jevin Banks is drawn into a far-reaching conspiracy involving one of the world's largest pharmaceutical firms. After giving up his career as an escape artist and illusionist in the wake of his wife and sons' tragic death, Jevin is seeking not only answers about the questionable mind-to-mind communication program, but also answers to why his family suffered as they did.

Rooted in ground-breaking science and inspired by actual research, Placebo explores the far reaches of science, consciousness, and faith. Readers will love this taut, intelligent, and emotionally gripping new thriller from master storyteller Steven James.

Steven James has earned a place on my list of "totally awesome authors", and Placebo is another winner! Just when I was wondering how on earth he could come up with a character as appealing and heroic as Patrick Bowers from the Bowers Files series, along comes Jevin Banks, a former magician/illusionist turned exposé filmmaker, and someone who just happens to be trained in martial arts as well. The opening scenes of the book immediately cause you to empathize with Jevin, and things only get more compelling and intense from there as you watch him in action, encountering far more than he bargained for in his latest investigation. I always appreciate when authors can come up with a conceivable plot that allows character to legitimately be in the midst of crime, and Jevin is a man of many talents who is is just real enough to seem believable in his role. The potential love interest in the book is well-handled with a light touch, and I must say that the characters portrayed as psychopaths are truly chilling to encounter!

I enjoyed this story from start to finish, both loving the characters and being mesmerized by the intricate and fascinating plot. Elements of faith are cleverly woven into the story without coming across as being preachy, and as such the book is sure to appeal to a large variety of audience. If you are looking for a top-notch, suspenseful read, then Placebo is what you've been waiting for. 5 out of 5 stars.
Book has been provided courtesy of Baker Publishing Group and Graf-Martin Communications, Inc. Available at your favourite bookseller from Revell, a division of Baker Publishing Group.
Critically acclaimed author Steven James has written more than thirty books, including Story, A Heart Exposed, and the bestselling Patrick Bowers thriller series. He is considered one of the nation's most innovative storytellers and versatile authors, and is a contributing editor to Writer's Digest. Steven lives in Tennessee with his wife and three daughters.