Guaranteed to be an instant favorite of your daughter! My review of "The Princess and the Three Knights" by Karen Kingsbury and Gabrielle Grimard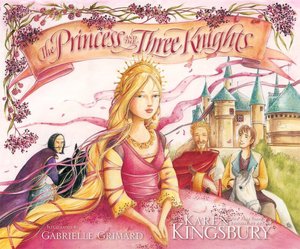 From talented author Karen Kingsbury comes a wonderful story of a King who challenges the knights in the land to win the hand of his precious princess. After enduring tests of their strength and courage, three knights stand poised to win her hand, with only one challenge left to determine the final victor. Each knight must imagine that the princess is on their horse, and race as close as possible to a cliff's edge. However, little do the knights know that what the King really values is the one who will treasure his daughter simply for who God has made her to be. As the final test unfolds before a spellbound crowd, you may be surprised at just who captures the heart of the princess!
My girls absolutely love this story, and we have read it over and over again. They were immediately captivated by the idea of a contest being held to determine who would marry the princess, and were gripped by the suspense of the final challenge. Kingsbury has put her story-telling gift to excellent use, crafting a story that is beautiful to read and will leave you smiling from ear to ear. The illustrations from Grimard are simply gorgeous, and I am not exaggerating when I say that this is one of the most beautiful children's books I have come across in some time. I also couldn't be happier about my children enjoying a book with such a powerful message about the importance of faith and God and the true nature about love, which is patient and kind and always protects.
I urge you to get this book for your children, as I guarantee that it will be an instant hit. I highly recommend it and award it 5 out of 5 stars.
Book has been provided courtesy of the publisher, Zondervan (Zonderkidz), for the purposes of this unbiased review.
About the author and illustrator
New York Times bestselling author Karen Kingsbury is America's favorite inspirational novelist, with over 20 million books in print. Her Life-Changing Fiction™ has produced multiple bestsellers, including Unlocked, Leaving, Take One, Between Sundays, Even Now, One Tuesday Morning, Beyond Tuesday Morning, and Ever After, which was named the 2007 Christian Book of the Year. An award-winning author and newly published songwriter, Karen has several movies optioned for production, and her novel Like Dandelion Dust was made into a major motion picture and is now available on DVD. Karen is also a nationally known speaker with several women's groups including Women of Faith. She lives in Tennessee with her husband, Don, and their five sons, three of whom are adopted from Haiti. Their daughter Kelsey is married to Christian artist Kyle Kupecky.
Gabrielle Grimard has been drawing since she was a very young child. Born in Montreal, Canada, she studied Fine Arts at Concordia University. She began her career as a muralist, painting numerous walls in commercial buildings in the Montreal area. She now lives in the Eastern Townships with her chickens, two children, and husband, who is a wood boat builder. They share an old barn as their creative studio.