Absolutely entertaining while challenging your faith: My review & GIVEAWAY of "Soul's Gate" by James L. Rubart
Check out my review of "Soul's Gate", and be sure to enter the giveaway (details at the end of the post):
Reece stood and faced the group. "Every now and then we get a break from reality. A glimpse into the other world that is more real than the reality we live in 99 percent of our days. The Bible is about a world of demons and angels and great evil and even greater glory."
What if you could travel inside another person's soul? To battle for them. To be part of Jesus healing their deepest wounds. To help set them free to step boldly into their divinely designed future.
Thirty years ago that's exactly what Reece Roth did. Until tragedy shattered his life and ripped away his future.
Now God has drawn Reece out of the shadows to fulfill a prophecy spoken over him three decades ago. A prophecy about four warriors with the potential to change the world . . . if Reece will face his deepest regret and teach them what he has learned.
They gather at a secluded and mysterious ranch deep in the mountains of Colorado, where they will learn to see the spiritual world around them with stunning clarity—and how to step into the supernatural.
Their training is only the beginning. The four have a destiny to pursue a freedom even Reece doesn't fully fathom. But they have an enemy hell-bent on destroying them and he'll stop at nothing to keep them from their quest for true freedom and the coming battle of souls.
Every so often I read a book that is so real, so powerful, that I find myself actually praying for the characters as I race my way through the pages! Soul's Gate is one such book, one that not only entertains with the taut narrative and scenes of suspense, but breathes with spiritual truths that leave me examining my own journey with God. Rubart's book is masterfully executed, taking some truly unique concepts, like the idea of going into another person's soul to do spiritual battle, and combining them with skillful writing and wonderful characterization. As I read the book, I considered the spiritual world around me, the unseen beings that are so prevalent in the pages of the Bible and yet usually go unforgotten as we go about our days. I am certainly not someone who sees demons lurking around every corner, and yet this fabulous fiction book reminds me again that there are indeed spiritual forces at work and that I need to be mindful of them.
Books like this one are definitely worth telling people about and encouraging them to read it for themselves. Not only is this good fiction, but it will challenge our understanding of God and his kingdom and the meaning of freedom in our own lives. I highly recommend this book and award it 5 out of 5stars.
Book has been provided courtesy of the publisher, Thomas Nelson, and the Litfuse Publicity Group, for the purposes of this unbiased review.
I've been a professional marketer since 1994 through my company Barefoot Marketing, but my passion is writing fiction.
I'm also a photographer, guitarist, professional speaker, golfer, and semi-pro magician. I live in the Northwest with the world's most perfect wife and my two almost-perfect sons. No, I don't sleep much. You can catch up more with me at www.jimrubart.com or www.barefootmarketing.com.
This biography was provided by the author or their representative.
Check out what other people are saying as part of the Litfuse tour at:
Buy the book from Amazon or Barnes&Noble.com: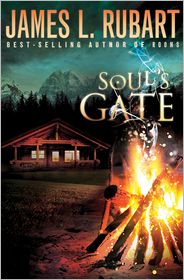 And now for the giveaway....
Hopefully, you all entered the giveaway for an iPad that was organized by Litfuse & James L. Rubart, and that was advertised under my "giveaway" tab and the ad on the sidebar.
If not, you have another chance at a giveaway, this time to enter to win a copy of Soul's Gate!
I am giving away 1 copy of "Soul's Gate" to readers from the U.S. and Canada, courtesy of the publisher, Thomas Nelson.
You can get 1 entry into the giveaway for each task you perform:
1. Become a follower of my blog (through Google Followers or Networked Blogs) then leave a comment confirming you became a follower. If you are already a follower, just leave a comment that you already follow and I'll give you 1 entry for that.
2. "Like" my Facebook page, and let me know you did so in a comment. (The link is at the top of the webpage). Let me know if you've already liked it, and I'll give you an entry.
3. Post about the giveaway on your own blog or on twitter or facebook and leave me a comment. You get 1 entry for each method of spreading the word!
4. Leave a comment answering the following question: "Have you ever had a vision or dream that you know was given to you by the Holy Spirit?"
++ Please include your email address in your comment so I can contact you to arrange to get the book in the mail to you.
That's all there is to it. Contest Ends November 30, 2012.
Good luck!