A splendid conclusion to a thrilling series: My review of "When A Secret Kills" by Lynette Eason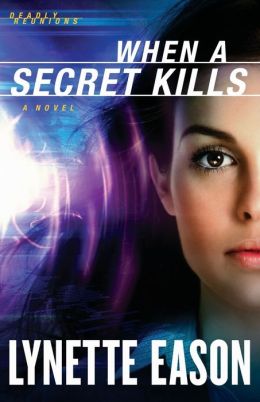 She's come home to put a killer behind bars.
But the killer plans to put her six feet under.

Investigative reporter Jillian Carter knows it's time to put the past to rest. She's tired of looking over her shoulder, letting a killer go free. She's no longer the scared kid who changed her name and disappeared. Now, no matter what the cost, Jillian must do what she is trained to do-find the truth and expose it. And the truth is that Senator Frank Hoffman committed murder ten years ago-and Jillian watched it happen.
Didn't she?
Normally I don't love romantic suspense, but would prefer the romance be largely left out. Lynette Eason's "Deadly Reunions" series has convinced me otherwise, that a romantic suspense book can be a fantastic read! This final installment in the series, "When A Secret Kills", had my pulse accelerating only moments into the story, and the suspense level remained high from start to finish. The author has found a winning combination between developing realistic characters you can care about, with tense scenes and enough gunshots and explosions to satisfy the most committed fiction suspense fan. The romance isn't at all over the top but fits naturally into the story, and as such both male and female readers are likely to appreciate this book. Not only does the story entertain, but themes of forgiveness and reconciliation are likewise woven into the plot, giving readers the opportunity to examine their own faith and the way they respond to people in their lives who have hurt them in some way.

Romantic suspense novels don't get better than this, and the entire series is worth checking out if you haven't yet done so! 4.5 out of 5 stars.

Book has been provided courtesy of Baker Publishing Group and Graf-Martin Communications, Inc. Available at your favourite bookseller from Revell, a division of Baker Publishing Group.


Lynette Eason
is the author of several romantic suspense novels, including Too Close to Home,Don't Look Back, A Killer Among Us, and When the Smoke Clears. She is a member of American Christian Fiction Writers and Romance Writers of America. A homeschooling mother of two, she has a master's degree in education from Converse College. She lives in South Carolina.