Check out "Last Chance for Justice" by Kathi Macias!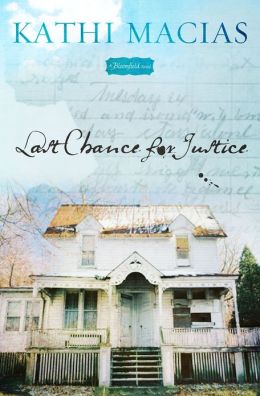 Check out a preview and my review of the latest book from Kathi Macias, courtesy of the publisher and CFBA:
........


This week, the
Christian Fiction Blog Alliance
is introducing
Last Chance for Justice
B&H Books (May 1, 2013)
by
Kathi Macias
ABOUT THE AUTHOR:
Kathi Macias is a multi-award winning writer who has authored nearly 40 books and ghostwritten several others. A former newspaper columnist and string reporter, Kathi has taught creative and business writing in various venues and has been a guest on many radio and television programs. Kathi is a popular speaker at churches, women's clubs and retreats, and writers' conferences. She won the 2008 Member of the Year award from AWSA (Advanced Writers and Speakers Association) and was the 2011 Author of the Year from BooksandAuthors.net. Her novel set in China,
Red Ink
, was named Golden Scrolls 2011 Novel of the Year and was also a Carol Award Finalist; her October 2012 release,
Unexpected Christmas Hero
, was named 2012 Book of the Year by BookandAuthors.net. Kathi "Easy Writer" Macias lives in Homeland, CA, with her husband.
Kathi is passionate about The Voice of the Martyrs and Open Doors. To learn more about the persecuted church, please visit
VOM's website
and
Open Doors Website
.
ABOUT THE BOOK
Welcome to Bloomfield, where life is simple, love is real, and stories are shared.
Lynn Myers is still reeling from losing her husband of thirty-five years when word comes that her only sibling, an older brother, has also died. With no one else to settle the estate, she must return to her small hometown of Bloomfield, however briefly, to settle his affairs.
Lynn's daughter, Rachel, has just graduated from Bible college and with no other commitments comes along to sort through her uncle's huge old home, right next to the local cemetery.
It isn't long before Rachel has two men -- a handsome CPA and the youth pastor -- seriously vying for her attention. At the same time, Lynn's attention is drawn to a set of journals her brother has left behind detailing a long-standing Bloomfield mystery.
As they pursue solving this mystery, Rachel must make some personal decisions about her future, while Lynn is forced to face unexpected issues from her own past.
If you would like to read the first chapter of
Last Chance for Justice
, go
HERE
.
my review.....
Kathi Macias excels at creating characters with heart, and her latest story features characters you will grow to care for. I enjoyed meeting Lynn Myers, who learns that God isn't done with her, and that he has a plan for her life that goes beyond her grief and simply trying to get through one day at a time. "Last Chance for Justice" is a story that many readers will no doubt be able to relate to, a story filled with emotion and moments of humor as well. I did find some of the writing in the first half of the book to be a bit more awkward than I've found with Kathi's past novels, and this slowed down the pace of the story for me. It wasn't until the middle of the story that I truly found that it grabbed my attention. Part of the problem is that I found myself comparing this book to her prior novels about females caught in sexual slavery. Those novels were intense and heart-breaking and chock full of swift-paced drama, while "Last Chance" moves at a slower pace. I am sure that many readers will no doubt enjoy the way in which this story is written, even if it wasn't my favourite novel from the author. I do appreciate the way she has woven faith into the story, and the mother-daughter relationship between Lynn and Rachel is definitely worth celebrating.

I award this story a mild recommendation and rating of 3 out of 5 stars.


Book has been provided courtesy of the publisher and Christian Fiction Blog Alliance, for the purposes of this unbiased review.