An absolute treasure for dads & daughters: My review of "Always Daddy's Princess" by Karen Kingsbury & Valeria Docampo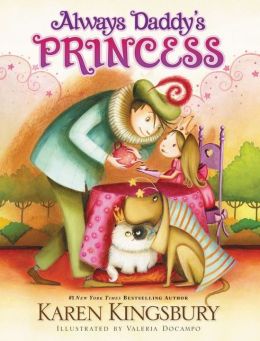 about the book...
There is nothing better than cuddling up with a book with your daughters and hearing them exclaim, after the last page is read, "I absolutely LOVE this book!!" From the first page of Karen Kingsbury's "Always Daddy's Princess", my girls had large smiles on their faces as they poured over the colourful illustrations and listened to the story being read. The book is absolutely beautiful to look through, with pictures designed to capture the interest of young and old. I really enjoyed Kingsbury's writing style with this book, as she chooses to convey the story in rhyme. The book flows very lyrically, and is fun to read out loud.

Most of all, I absolutely love how this book celebrates the special relationship between a father and his daughter(s), displaying a playful side of fatherhood but also showing how a real dad is there for every special moment in his daughter's life, from birth to teenagehood to marriage to becoming a grandparent. That message alone makes this a book worth reading over and over again with your daughter. Simply reading it a few times with my own girls has opened up opportunities to talk about how I will be there for their special moments, how they will grow up and be parents one day themselves. The scriptures included on the pages also add an extra depth to the book.

If you are looking for a well-written children's book that is fun to read, has gorgeous pictures, and conveys powerful truths, then "Always Daddy's Princess" is just what you are looking for. 4.5 out of 5 stars.


Book has been provided courtesy of publicist Laura Wallar with HarperCollinsCanada, Ltd. Available from your favorite book retailer from Zondervan (Zonderkidz), a division of HarperCollins.



About the author and illustrator...
New York Times bestselling author Karen Kingsbury is America's favorite inspirational novelist, with over 20 million books in print. Her Life-Changing Fiction™ has produced multiple bestsellers, including Unlocked, Leaving, Take One, Between Sundays, Even Now, One Tuesday Morning, Beyond Tuesday Morning, and Ever After, which was named the 2007 Christian Book of the Year. An award-winning author and newly published songwriter, Karen has several movies optioned for production, and her novel Like Dandelion Dust was made into a major motion picture and is now available on DVD. Karen is also a nationally known speaker with several women's groups including Women of Faith. She lives in Tennessee with her husband, Don, and their five sons, three of whom are adopted from Haiti. Their daughter Kelsey is married to Christian artist Kyle Kupecky.
Valeria began to draw driven by the desire to capture the poetry of everyday things: the children and dogs' glance, the shape of the plants, the sound of the autumn dry leaves and the aroma of breakfast. Since 2006 she has been dedicated to children book's illustration.
She is represented by the agency MB Artist in New York. She illustrates for publishers from 5 continents.