Gina Holmes just gets better and better: My review of "Wings of Glass" by Gina Holmes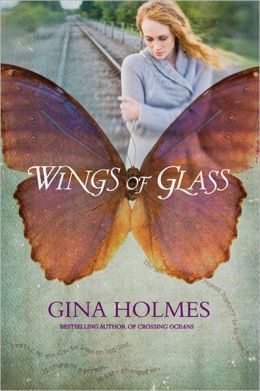 From the best-selling author of Crossing Oceans comes a heartrending yet uplifting story of friendship and redemption. On the cusp of adulthood, eighteen-year-old Penny Carson is swept off her feet by a handsome farmhand with a confident swagger. Though Trent Taylor seems like Prince Charming and offers an escape from her one-stop-sign town, Penny's happily-ever-after lasts no longer than their breakneck courtship. Before the ink even dries on their marriage certificate, he hits her for the first time. It isn't the last, yet the bruises that can't be seen are the most painful of all.
When Trent is injured in a welding accident and his paycheck stops, he has no choice but to finally allow Penny to take a job cleaning houses. Here she meets two women from very different worlds who will teach her to live and laugh again, and lend her their backbones just long enough for her to find her own.
I hold Gina Holmes fully responsible for putting me in touch with my feminine side this week. I cracked open the covers of "Wings of Glass" and was immediately swept up into the world of Penny Carson, finding myself deeply moved by her story such that I even shed tears! Holmes has expertly captured the heart-break of domestic violence, and yet has also shown the power of God in bringing others alongside to support and love hurting women to places of freedom. The book is very well written and the words flow smoothly, with the story leaving me craving more. The characters are wonderfully developed and you will leave the story feeling like you've made new friends. As I myself have worked with many victims of domestic violence over the years in my job as a social worker, I can tell you that Gina's book contains an authentic flavor that rings all too true. As such, readers may find themselves disturbed by some of the things they read about, at the choices Penny makes. Yet they will also learn the importance of loving women in these situations in a non-judgmental manner, as readers will learn that no situation is black and white. Although I enjoyed the character of Penny, probably my favorite character is Fatimah, who does everything with her unique passion. The scene where Fatimah invites Penny to dinner over the phone literally had me laughing out loud, and I loved how she wasn't afraid to stand up to injustice!

You'll laugh, you'll cry, you'll come away all the better for spending time with Penny and Fatimah. I highly recommend this novel and award it 5 out of 5 stars.

Book has been provided courtesy of the author for the purposes of this unbiased review.
Gina Holmes is the President and founder of popular literary site, Novel Rocket, and award-winning author of Crossing Oceans, Dry as Rain, and Wings of Glass. She resides with her husband and children in southern Virginia. She works too hard, laughs too loud, and longs to see others heal from their past and discover their God-given purpose. To learn more about her, visit www.ginaholmes.com or
www.novelrocket.com
.