Menno boys can cook too! (Well, thanks to the Mennonite Girls anyway) - My review of "Mennonite Girls Can Cook Celebrations"
I like to pretend I can cook. I faithfully follow recipes. I slide the masterpiece into the oven. And I often stare forlornly at the product.
Unfortunately, I am that man who tries hard but....the end result isn't always pretty! It doesn't help when I do things like add salt instead of sugar (who knew cookie dough could turn GREEN?).
To the rescue come the ladies with Mennonite Girls Can Cook, bringing recipes that anyone (even me) can follow to produce fantastic looking and tasting food. Read on for my review!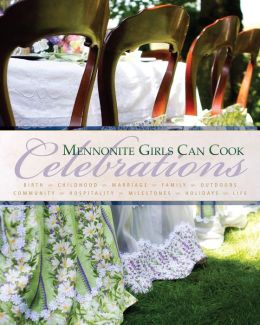 Life is a gift from God, so why not celebrate?
The bestselling authors of Mennonite Girls Can Cook return with a second course in their new Celebrations cookbook. From mouthwatering mini-muffins and succulent soufflé to campers' stew and lattice-topped grilled apples, the Mennonite Girls share recipes to honor all of life. Join the girls for brunch celebrating a child's birth, campfire cooking with family, and even the more somber celebrations of a life well-lived. Filled from cover to cover with devotional reflections, personal stories, and beautiful photos, this book contains much more than recipes--it will soon become your kitchen companion for life's celebrations.
Like their first book, Mennonite Girls Can Cook: Celebrations includes many gluten free adaptations!
I can honestly say that out of all of the cookbooks I have reviewed over the years, "Mennonite Girls Can Cook Celebrations" easily tops the list. A common complaint I've had with other cookbooks is the lack of pictures and visual appeal - but such is definitely not the case with this cookbook! Featuring gorgeous pictures, endearing stories and anecdotes, and easy-to-follow recipes that produce food that not only tastes great but looks good too, this cookbook is an absolute gem. My wife absolutely loves her copy, and greatly enjoys pouring over the pages learning more about the art of cooking while being inspired about stories of life and family and the gift of sharing mealtimes together with those God has placed in our lives. Reading through this book will not only lighten your heart and bless your faith, but will give you practical suggestions and cooking and decorating ideas for how to celebrate every moment of life, no matter how simple or grand an occasion. I myself have so many good memories sitting around a table laughing and talking, and this book is designed to make the most of those opportunities to have food and fellowship with family and friends. What I most love about this book is that readers get a chance to glimpse into the very real lives of the authors, women who live for God through times of joy and also times of pain. The personal touch in this cookbook makes it so much more than a treasury of recipes, though it is indeed that. Instead, it is a book that will be read through again and again. It has earned a permanent place on our shelves not only as a source of excellent recipes, but as a source of inspiration as well.
My only concern about this cookbook is that we can't seem to keep it in our house! Everyone seems to want to borrow our copy to look through! Definitely plan on adding this one to your collection and giving away a few copies yourself. 5 out of 5 stars.
Book has been provided courtesy of MennoMedia and Graf-Martin Communications, Inc. Available at your favourite bookseller from Herald Press, a publishing imprint of MennoMedia.
Mennonite Girls Can Cook
is a blog about recipes, hospitality, relationships, encouragement and helping the hungry. The first cookbook,
Mennonite Girls Can Cook
has been a smashing success and has sold over 30,000 copies so far, with all author royalties going to feed hungry children.