GIVEAWAY & review of the BEST Randy Singer book yet: My review of "Dead Lawyers Tell No Tales"
I am hosting a giveaway of, not one, but TWO copies of "Dead Lawyers Tell No Tales" by Randy Singer.
Check out my review, and then be sure to enter to win one of the copies, courtesy of the publisher.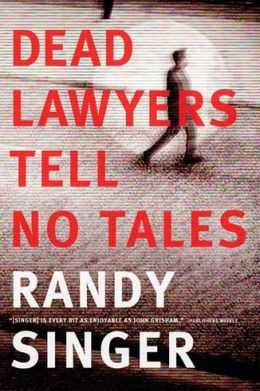 Landon Reed is an ex-quarterback convicted of organizing a points-shaving scheme. During his time in prison, he found forgiveness and faith and earned his law degree. Now he longs for an opportunity to prove his loyalty and worth. Be careful what you ask for.

Harry McNaughton is one of the founding partners of McNaughton & Clay—and the only lawyer willing to take a chance employing an ex-con-turned-lawyer. Though Landon initially questions Harry's ethics and methods, it's clear the crusty old lawyer has one of the most brilliant legal minds Landon has ever encountered. The two dive into preparing a defense for one of the highest-profile murder trials Virginia Beach has seen in decades when Harry is gunned down in what appears to be a random mugging. Then two more lawyers are killed when the firm's private jet crashes. Authorities suspect someone has a vendetta against McNaughton & Clay, leaving Landon and the remaining partner as the final targets.

As Landon struggles to keep the firm together, he can't help but wonder, is the plot related to a shady case from McNaughton & Clay's past, or to the murder trial he's neck-deep in now? And will he survive long enough to find out?



There is only one thing that I absolutely hate about a really good book - getting to the end! I can honestly say that Randy Singer's latest book is one of my absolutely favorites from him yet. It has everything you could hope for in a solid legal thriller - characters you can cheer for, ethical dilemmas, fun court room scenes, and the kind of suspense that keeps you flying from one scene to the next. Landon Reed is an absolutely unique character, with a shady past that causes the light of Christ to shine all the more clearly, and I loved watching him grow as a character. He is the very epitome of what it means to be a true man, not that he's perfect, but that he's able to admit his wrongs and rise up to be the man God has called him to be. His marriage is also one worth celebrating, as he and his wife remain true and devoted to each other despite the hurdles life throws their way. In the midst of getting to know these wonderful characters, Randy has woven an intricate plot of secrets and misdirection that made for a highly enjoyable read. Dead Lawyers Tell No Tales is written with Singer's typical sure hand, making for pleasurable prose that is simply a treat to read. The characters are likable, the story is deftly plotted, and you can't help but be attracted to the faith that shines through the pages.

I can confidently say that fans of Randy Singer novels are going to love this story, and I am sure that new fans are going to flock to the tale as well. I highly recommend this book and award it 5 out of 5 stars.
An advanced reader's copy of the book has been provided courtesy of the publisher, Tyndale, for the purposes of this unbiased review.
Randy Singer is a critically acclaimed, award-winning author and veteran trial attorney. He has penned more than 10 legal thrillers and was recently a finalist with John Grisham and Michael Connelly for the inaugural Harper Lee Prize for Legal Fiction sponsored by the University of Alabama School of Law and the ABA Journal. Randy runs his own law practice and has been named to Virginia Business magazine's select list of "Legal Elite" litigation attorneys. In addition to his law practice and writing, Randy serves as teaching pastor for Trinity Church in Virginia Beach, Virginia. He calls it his "Jekyll and Hyde thing"—part lawyer, part pastor. He also teaches classes in advocacy and civil litigation at Regent Law School and, through his church, is involved with ministry opportunities in India. He and his wife, Rhonda, live in Virginia Beach. They have two grown children.
Visit his website at www.randysinger.net.
AND NOW FOR THE GIVEAWAY....
I am giving away 2 copies of "Dead Lawyers Tell No Tales" to readers from the U.S., courtesy of the publisher, Tyndale House.
You can get 1 entry into the giveaway for each task you perform:
1. Become a follower of my blog (through Google Followers or Networked Blogs) then leave a comment confirming you became a follower. If you are already a follower, just leave a comment that you already follow and I'll give you 1 entry for that.
2. "Like" my Facebook page, and let me know you did so in a comment. (The link is at the top of the webpage). Let me know if you've already liked it, and I'll give you an entry.
3. Post about the giveaway on your own blog or on twitter or facebook and leave me a comment. You get 1 entry for each method of spreading the word!
AND/OR
4. Leave a comment answering the following question: "What is the best legal thriller book you've ever read?"
++ Please include your email address in your comment so I can contact you to arrange to get the book to you.
That's all there is to it! Contest Ends May 31, 2013