One of his best yet: My review of "The Sanctuary" by Ted Dekker @TedDekker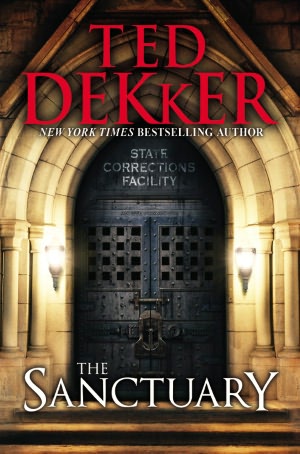 THE SANCTUARY is the gripping story of vigilante priest, Danny Hansen, who is now serving a fifty year prison term in California for the murder of two abusive men. Filled with remorse, Danny is determined to live out his days by a code of non-violence and maneuvers deftly within a ruthless prison system.
But when Renee Gilmore, the woman he loves, receives a box containing a bloody finger and draconian demands from a mysterious enemy on the outside, Danny must find a way to escape.
They are both drawn into a terrifying game of life and death. If Renee fails, the priest will die; if Danny fails, Renee will die. And the body count will not stop at two.
Ted Dekker is at the top of his game with "The Sanctuary", delivering a masterfully written read that unfolds at a breakneck pace. I was immediately drawn back into the world of Danny and Renee, the characters first introduced in "The Priest's Graveyard", and Dekker cleverly interchanges between the points of view of Danny and Renee, while hurtling the reader towards the exciting conclusion. As with the prior book involving these characters, I am again blown away by Dekker's ability to take two characters who I should feel only disgust for due to their horrific deeds, and yet instead I find myself sympathetic to their plight and absolutely rooting for them. Danny utterly intrigues me as a character, a former priest who killed those whose crimes were escaping notice of the justice system, and someone who has now taken a vow of non-violence. The way that he is tested in this book is simply fascinating, and I should note that some of the scenes involving him are totally gruesome (especially regarding how he's tested) and will turn off some readers. But for those readers who don't have as sensitive of stomachs, this book should be at the top of their "must read list". It is completely entertaining, while leaving you thinking about human nature, about whether our justice system actually rehabilitates criminals, about our flaws as human beings and how we all have the capacity to be driven to act in ways we hope we never will. This book makes me thankful for God's grace, as we try to navigate an evil world and how to respond to it.
This is truly one of my favourite books from Ted Dekker thus far, and I give it my highest recommendation and 5 out of 5 stars.
Book has been provided courtesy of the publisher, Hachette Book Group/Center Street, for the purposes of this unbiased review.
TED DEKKER
is a New York Times bestselling thriller author. Heralded as a "master of suspense" by Library Journal, Dekker has sold millions worldwide, establishing himself as one of the most widely recognized author brands. He began his career writing fantasy novels that explored spirituality (Black, Red and White) and has since become a major force in the mainstream fiction arena with his recent thrillers, "Adam," "Thr3e," "Skin," "Obsessed," "BoneMan's Daughters," which landed in the #10 on the New York Times hardcover bestseller list in 2009, and "The Bride Collector". Dekker has been honored with a Christy Award as well as a Gold Medallion Award for Best Fiction. "Thr3e" and his novel "House" became feature films.
Ted Dekker's fans are comprised of readers of all ages, backgrounds, and belief systems who love his compulsively readable stories, authentic characters, and universal and relatable themes that he explores from a unique point of view. He resides in Austin, Texas with his wife and children. You can find him at Teddekker.com and Facebook.com/teddekker.