A book every parent should put into practice: My review & Giveaway of "Praying Circles around your Children" by Mark Batterson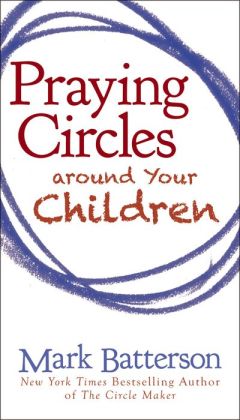 Pastor Mark Batterson, best selling author of "The Circle Maker", offers up thoroughly Biblical yet practical guidance for parents in "Praying Circles Around Your Children". Parents who may struggle with wondering how to protect their children through prayer are provided with step-by-step help in shaping the future of not only their children but their grandchildren and on through the generations. The author tackles subjects such as praying God's promises over your children, how to make prayer lists specific to your family, or praying through the Bible. Batterson not only provides advice, but he uses stories of everyday parents to do so.

I greatly enjoyed reading through this excellent book, finding it to be non-judmental and easy to immediately put into practice. I loved how the author comments that, "You'll never be a perfect parent, but you can be a praying parent", allowing us to release expectations that we will be everything our children need us to be and instead allow God to be all that they need. The book is well-written and laid out in an understandable, accessible manner. I also appreciated how the author inserts personal anecdotes or interesting stories from other parent's experiences, which helped keep me engaged throughout the book. Most importantly, the book is solidly based on scripture, and so it serves to increase our understanding of prayer by helping parents to put it into practice specifically in relation to their family. In a world that has become ever crazier for children and full of unbelievable temptations that accompany the increase of technology, there is nothing more important than bathing our families in prayer.

I highly recommend this book to any parent or grandparent who is seeking to enrich their prayer life and to grow in their understanding of how prayer impacts their family. 5 out of 5 stars.


Book has been provided courtesy of the publisher, Zondervan, for the purposes of this unbiased review. Available at your favourite bookseller and everywhere good books are sold!


Mark Batterson serves as the lead pastor of National Community Church in Washington, D. C. Recognized as "one of America's 25 most innovative churches," NCC is one church with seven locations. Mark's blog (www.markbatterson.com) and webcast (www.theaterchurch.com) also reach a virtual congregation around the world. Mark is the author of several bestselling books, including New York Times Bestseller - The Circle Maker and In a Pit with a Lion on a Snowy Day. He and his wife, Lora, live on Capitol Hill with their three children. You can follow Mark on Twitter: @markbatterson
And now for the giveaway....
I am giving away 2 copies of "Praying Circles Around Your Children" along with a piece of chalk, to readers from the U.S. and Canada, courtesy of the publisher, Zondervan.
You can get 1 entry into the giveaway for each task you perform:
1. Become a follower of my blog (through Google Followers or Networked Blogs) then leave a comment confirming you became a follower. If you are already a follower, just leave a comment that you already follow and I'll give you 1 entry for that.
2. "Like" my Facebook page, and let me know you did so in a comment. (The link is at the top of the webpage). Let me know if you've already liked it, and I'll give you an entry.
3. Post about the giveaway on your own blog or on twitter or facebook and leave me a comment. You get 1 entry for each method of spreading the word!
4. Leave a comment answering the following question: "What is your favorite book about prayer that you've read so far?"
++ Please include your email address in your comment so I can contact you to arrange to get the book in the mail to you.
That's all there is to it. Contest Ends February 2, 2013.
Good luck!