A sweet, beautiful tale: My review of "A Christmas Home"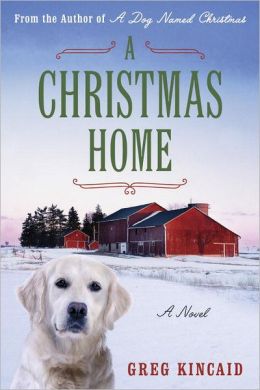 Todd McCray, hero of A Dog Named Christmas, is now twenty-four years old and working at a local animal shelter, where he meets and quickly becomes best friends with Laura, a young volunteer. Laura, like Todd, has disabilities of her own, but her struggles are more physical than developmental. Their friendship is sealed when Todd—with the help of his trusted companion, the tenacious Labrador retriever named Christmas—trains a beautiful dog named Gracie to help Laura with the day-to-day life tasks that are difficult for her.

Life seems good for Todd, but all is not well in his hometown. Struggling families unable to make ends meet are abandoning more and more dogs, and the shelter is swelling to capacity. The local government is struggling to meet its obligations too, and in early December, on the cusp of another holiday season, Todd's boss delivers the bad news. Due to funding problems, the shelter will close its doors before the end of the year. But what will happen to all the animals?
As the Christmas holiday approaches, Todd has limited time to find homes for all the dogs. Not to mention that he needs to secure a new job and figure out what to do when his friendship with Laura takes an unexpected romantic turn. All this seems overwhelming unless you've got a loving family, dedicated friends, and a couple of very special dogs behind you. In which case, nothing is impossible.






A sweet, beautiful tale that left tears in my eyes, "A Christmas Home" is just what the doctor ordered if you are looking for a book that will leave a smile on your face! Todd is a fantastic character, learning to fully grasp all life has to offer while dealing with an intellectual disability that makes things more challenging for him. The story follows his journey of dealing with the animal shelter closing, the place where he had found his first job and discovered his passion for animals and training dogs. I thoroughly enjoyed following the plot-line of the developing relationship between Todd and Laura, and I also loved how Todd takes steps of independence in a manner that truly inspired me. Despite being a character-driven drama, the plot moves along very well and kept me engaged throughout. The writing is solid, featuring likable characters, a unique plot, and a conclusion that will leave you grinning (and perhaps wiping a tear from your eye).

If you haven't read the previous story featuring Todd (A Dog Name Christmas) - don't worry about it! I hadn't either - and I still loved this book.

This is the first book by Greg Kincaid that I have had the pleasure of reading - but it certainly will not be the last. I strongly recommend this book and award it 4.5 out of 5 stars.

Book was provided courtesy of the publisher, Crown Publishing Group (an imprint of Ranedom House Inc.) for the purposes of this unbiased review.
GREG KINCAID, when not writing, is a practicing lawyer, specializing in divorce and family law mediation. He lives on a farm in eastern Kansas with his wife, three horses, two dogs, and two cats.