Let's hope this fiction stays fiction: My review of "Fatherless" By James Dobson, Kurt Bruner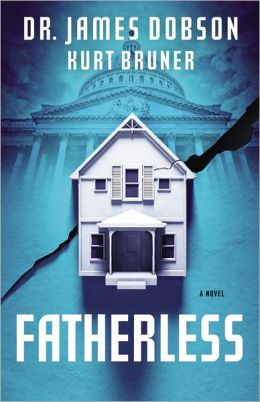 The year is 2042, and a long-predicted tipping point has arrived. For the first time in human history, the economic pyramid has flipped: The feeble old now outnumber the vigorous young, and this untenable situation is intensifying a battle between competing cultural agendas. Reporter Julia Davidson-a formerly award-winning journalist seeking to revive a flagging career-is investigating the growing crisis, unaware that her activity makes her a pawn in an ominous conspiracy. Plagued by nightmares about her absent father, Julia finds herself drawn to the quiet strength of a man she meets at a friend's church. As the engrossing plot of FATHERLESS unfolds, Julia will face choices that pit professional success against personal survival in an increasingly uncertain and dangerous world.

In the dystopian tradition of books like 1984, Brave New World, and The Hunger Games, FATHERLESS vividly imagines a future in which present-day trends come to sinister fruition. The second and third books in the series, CHILDLESS and GODLESS, will follow at eight-month intervals.


Every so often I read a book that leaves me feeling like the plot is entirely too possible, and I shudder to imagine that it might come true. Fatherless is just such a book, depicting a not-so-distant future where it becomes routine for an elderly person to end their burdensome life, where the average man doesn't even bother to have children but instead remains the eternal playboy, and where the concept of marriage is simply laughable. I found the plot to be fascinating, and needless to say I was hooked from the first sentence and held captive to the last page. Dobson and Bruner are a dynamic writing team, and have created unforgettable characters who will draw you in to their complex lives.

The book is sure to appeal to a wide audience, as there's no real violence to scare off readers used to more gentle reads. However, the plot is absolutely action-packed and filled with every day people working through deep ethical issues, ones that we are already facing on a much smaller scale. I can't even imagine what it would be like to live in a world where helping someone die because they are elderly and disabled becomes viewed as something heroic! I pray God saves us from such a future.

Fatherless is an excellent start to a series that is bound to not only entertain, but to leave you thinking about where our world is headed in the near future. I encourage you to pick up this book and journey with the characters through some frightening possibilities that will make you thankful that we're not living in that world - yet. 5 out of 5 stars.
Book has been provided courtesy of Hachette Book Group Canada, for the purposes of this unbiased review.
Dr. James Dobson
is the Founder and President of Family Talk, a nonprofit organization that produces his radio program, "Family Talk with Dr. James Dobson." He is the author of more than 30 books dedicated to the preservation of the family. He has been active in governmental affairs and has advised three U.S. presidents on family matters. Dr. Dobson is married to Shirley and they have two grown children, Danae and Ryan, and two grandchildren. The Dobsons reside in Colorado Springs, CO.
Kurt Bruner
serves as Pastor of Spiritual Formation at Lake Pointe Church and on the adjunct faculty of Dallas Theological Seminary. A graduate of Talbot Seminary and former Vice President with Focus on the Family, Kurt led the teams creating films, magazines, books, and radio drama. As President of HomePointe Inc., he helps local church leaders create an ongoing culture of intentional families. Kurt is the best-selling author of more than a dozen books. Kurt and his wife, Olivia, live in Rockwall, Texas.