Crisp writing makes for an enjoyable read: My review of "The Tainted Coin" by Mel Starr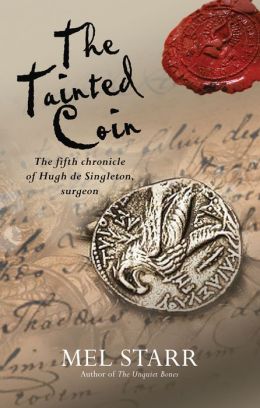 Master Hugh de Singleton, surgeon and bailiff, returns in a fifth installment to star in "The Tainted Coin". Set in the year of 1367, the story finds Hugh enjoying life in Bampton and just about to settle down to a satisfying breakfast when a pounding on the door interrupts his peaceful life. Hugh is soon tasked to uncovering who murdered a traveling merchant in the nearby woods. In the process of burying the man, a corroded coin is found in the man's mouth. The coin, along with the distinctive footprint of a horse believed to belong to one of the men responsible for his death, are the only clues Hugh has to follow. His journey soon finds him rescuing maidens in distress, a man set to be wrongfully hung, and a woman and her children who have been kidnapped.
I enjoyed returning to the world of Hugh, both as he used his powers of deduction to follow the trail of murderers, and also as he exercised his skills as a surgeon in a world steeped in superstition. The writing is crisp, the scenes fly by, and the dialogue keeps the story moving along while containing a delightful medieval flavor. Hugh is one of those characters who is so well developed that I feel that I could just read book after book about him - and I'm glad to see that another installment is already in the works! This book ends well, but doesn't completely wrap up the crime, providing a very realistic ending for a story set in a time where there wasn't DNA testing, finger print kits, and all the wonders of modern technology. I enjoyed the original characters, the fascinating setting, and the suspense of the story, making for a satisfying read.
I strongly recommend this book and award it 4.5 out of 5 stars.
I received a copy of this book from the publisher, Monarch, and Kregel blog tour services, for the purposes of this unbiased review.