A Smart & Entertaining Thriller: My review of "The Lawyer's Lawyer" by James Sheehan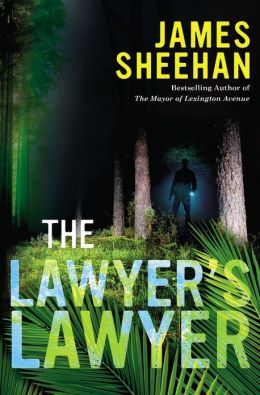 Celebrated trial attorney Jack Tobin was known in courtroom circles as a "lawyer's lawyer"--the guy the best lawyers say they'd want to represent them in a fight. Now retired from the high-powered Miami scene to the sleepy fishing town of Bass Creek, Tobin only represents people who he believes are innocent. When he is asked to represent a suspected serial killer, Tobin, at first, is hesitant. After reviewing the criminal investigation, however, Jack becomes convinced that the man was set up and decides to take the case. That decision not only pits Jack against the powerful elite of Apache County, its citizens, and the woman he loves, it also takes him down a road of self-searching and despair, and ultimately, into the courtroom where he must fight for his life in a battle that neither he nor any other lawyer has ever waged before.



A smart and entertaining thriller, "The Lawyer's Lawyer" is a book that is sure to please fans of legal-themed suspense novels. I've never had the chance to read a book by James Sheehan before, but I certainly enjoyed his latest offering, appreciating the fast-paced nature of the plot, the action filled pages, and the complex character of Jack Tobin. The author keeps the story moving along with one twist after another, and the courtroom scenes contain the element of realism, making it clear that the author knows exactly what he's talking about. I appreciated the deeper themes the author explores, such as the ethical dilemma around whether a lawyer should take on a case of defending a serial killer who may not be innocent, if there has clearly been a procedural injustice at work in his conviction. The characters in the Lawyer's Lawyer certainly aren't perfect, but there is much to admire in Jack's drive to represent truth and to act with utter loyalty. I also enjoyed the supporting characters in this book, who demonstrate what true friendship should look like. I must say that there was a bit more swearing than I expected from this publisher (Center Street), and the spiritual themes are definitely on the light side. But if you are looking for a well-written book that will have your pulse accelerating from start to finish, then you are definitely going to love this book.

I award it 4.5 out of 5 stars. I look forward to future books from this talented author.
Book has been provided courtesy of Hachette Book Group Canada, for the purposes of this unbiased review.
JAMES SHEEHAN is the author of The Mayor of Lexington Avenue and The Law of Second Chances. He was a successful trial attorney for 30 years, and currently teaches trial law and is the Director of the Tampa Law Institute at Stetson University College of Law in Tampa, Florida. Learn more at JamesSheehanauthor.com