Julie Klassen continues to shine: A GIVEAWAY & my review of "The Tutor's Daughter"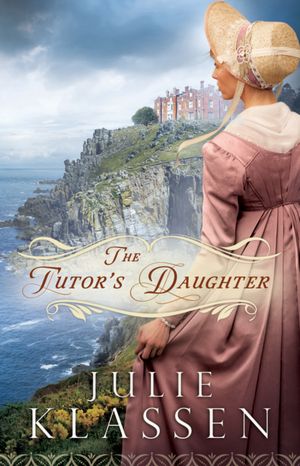 Award-Winning Regency Romance from Bestselling Author Julie Klassen

Emma Smallwood, determined to help her widowed father regain his spirits when his academy fails, agrees to travel with him to the distant Cornwall coast, to the cliff-top manor of a baronet and his four sons. But after they arrive and begin teaching the younger boys, mysterious things begin to happen and danger mounts. Who does Emma hear playing the pianoforte, only to find the music room empty? Who sneaks into her room at night? Who rips a page from her journal, only to return it with a chilling illustration?


The baronet's older sons, Phillip and Henry, wrestle with problems--and secrets--of their own. They both remember Emma Smallwood from their days at her father's academy. She had been an awkward, studious girl. But now one of them finds himself unexpectedly drawn to her.

When the suspicious acts escalate, can the clever tutor's daughter figure out which brother to blame... and which brother to trust with her heart?


I am certain that Julie Klassen's latest novel, Tutor's Daughter, is not standard fare for gentleman readers like myself. However, her writing style is so absorbing and her characters so entertaining that I simply can't resist from grabbing up each new offering she makes! And so I found myself almost hiding the novel and it's feminine cover as I devoured it from start to finish, transported to the world created by Julie's talented pen.

Tutor's Daughter is a fantastic novel, filled with all the drama and, yes, romance that readers could hope for, along with a Gothic flavor to boot! Klassen has an admirable grasp of English phrases, writing a book that moves at a splendid pace while demonstrating her skill in turning a phrase. I loved Henry's description of Emma in his thoughts, that "she guarded her reactions and words as though she wore bit and bridle and God himself held the rein". Such phrases add a flair to her writing that makes it a pleasure to read. The characters are beautifully developed and perfectly reflect their time period, invoking a delightful sense of reading a Jane Austen novel. The author does an outstanding job of unfolding the mysterious elements of the plot, creating some wonderfully suspenseful scenes throughout the book. Klassen will even keep you guessing about the romantic relationships that develop, and the romance is such that it is not at all over the top and so is likely to appeal to a wide variety of readers. All in all, Julie Klassen continues to shine in the world of Christian fiction, and I greatly anticipate who she will introduce us to next!

I highly recommend this book, and award it 5 out of 5 stars.
Book has been provided courtesy of Baker Publishing Group and Graf-Martin Communications, Inc. Available at your favourite bookseller from Bethany House, a division of Baker Publishing Group.
Julie Klassen loves all things Jane--Jane Eyre and Jane Austen. A graduate of the University of Illinois, Julie worked in publishing for sixteen years and now writes full time. She has won the Christy Award: Historical Romance for The Silent Governess (2010) and The Girl in the Gatehouse (2011) which also won the 2010 Midwest Book Award for Genre Fiction. Julie and her husband have two sons and live in a suburb of St. Paul, Minnesota. For more information, visit www.julieklassen.com
And now for the giveaway....
I am giving away 1 copy of "Tutor's Daughter" to readers from the U.S. and Canada, courtesy of the publisher, Bethany House,
and Graf-Martin Communications, Inc
You can get 1 entry into the giveaway for each task you perform:
1. Become a follower of my blog (through Google Followers or Networked Blogs) then leave a comment confirming you became a follower. If you are already a follower, just leave a comment that you already follow and I'll give you 1 entry for that.
2. "Like" my Facebook page, and let me know you did so in a comment. (The link is at the top of the webpage). Let me know if you've already liked it, and I'll give you an entry.
3. Post about the giveaway on your own blog or on twitter or facebook and leave me a comment. You get 1 entry for each method of spreading the word!
4. Leave a comment answering the following question: "Have you read a book by Julie Klassen before? If so, which one was your favorite?"
++ Please include your email address in your comment so I can contact you to arrange to get the book in the mail to you.
That's all there is to it. Contest Ends February 2, 2013.
Good luck!