A fantasy that won't make grandma blush: My review of "A Cast of Stones" by Patrick W. Carr
If you are looking for a well-written fantasy novel, then "A Cast of Stones" may just be for you.
It's a fantasy that even your grandma will approve of (there's not fifty shades of anything in THIS book).
Read on for my review!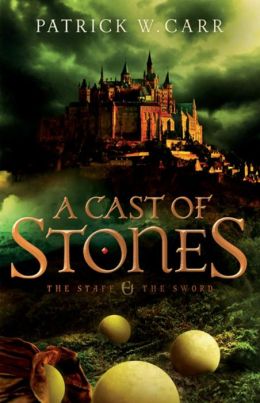 The Fate of the Kingdom Awaits the Cast of Stones
In the backwater village of Callowford, roustabout Errol Stone is enlisted by a church messenger arriving with urgent missives for the hermit priest in the hills. Eager for coin, Errol agrees to what he thinks will be an easy task, but soon finds himself hunted by deadly assassins. Forced to flee with the priest and a small band of travelers, Errol soon learns he's joined a quest that could change the fate of his kingdom.
Protected for millennia by the heirs of the first king, the kingdom's dynasty nears its end and the selection of the new king begins--but in secret and shadow. As danger mounts, Errol must leave behind the stains and griefs of the past, learn to fight, and discover who is hunting him and his companions and how far they will go to stop the reading of the stones.
Featuring a world conceived with great imagination, Patrick W. Carr's "A Cast of Stones" is an epic fantasy tale sure to delight savvy readers. Once I'd read enough of the story to wrap myself around the world the author has invented, I found myself pleasantly surprised with the pacing of the story and the intense action scenes that unfolded. The deeper into the story I went, the more engaged I was until by the end I was entirely caught up in the plot to see what Errol was in for next! The author's descriptions are sharp and clear, and he displays a keen ability to bring a story to life, weaving together fantasy and mystery and intrigue. I love the character of Errol, one of those characters who you have immediate sympathy for, while also reflecting our own struggles in life to feel significant and that your life has worth. The book is fairly long at well over 400 pages, and perhaps could have been tightened up a bit (although I also admit it's hard to imagine what the author would take out). Overall it is a grand start to the author's writing career, and is worthy entertainment indeed.

I am definitely looking forward to what is coming next in the series. Readers who enjoy works by Stephen Lawhead will surely enjoy "A Cast of Stones". I give this book a solid recommendation and award it 4 out of 5 stars.
Book has been provided courtesy of Baker Publishing Group and Graf-Martin Communications, Inc. Available at your favourite bookseller from Bethany House, a division of Baker Publishing Group.



Patrick W. Carr teaches high school math and makes his home in Nashville, Tennessee, with his incredible wife, Mary, and their four awesome sons, Patrick, Connor, Daniel, and Ethan. Learn more at patrickwcarr.com.