Dale Cramer at his best: My review of "Though Mountains Fall"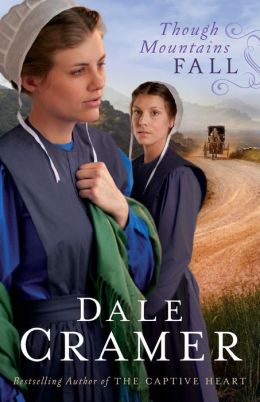 Inspired by Actual Events!
"I want you to promise you will always be my sister."
There were tears in Miriam's eyes as their foreheads touched and Rachel whispered, "No matter what. Always."
Now in its fourth year, the Amish settlement in Mexico is thriving. But as new settlers arrive, sons and daughters marry, babies are born, and crops grow thick, a storm looms on the horizon. And Caleb Bender knows--perhaps better than anyone--that the worst of storms don't come from the western skies.
They come on horseback.
When their very existence is threatened, the Amish turn to the Mexican government for help, only to discover that the rulers of men are fickle and security is an illusion. Tried by fire and riven by war, Caleb and Domingo come to understand that the kingdom of God is not to be found in land or buildings or gold or armies, but in the hearts of peaceful men trying to feed their families.
Watching helplessly as daughters Rachel, Miriam, and Emma are drawn inexorably toward their separate destinies, Caleb is forced to confront the most important decision of his life.
This third book of the "Daughters of Caleb Bender" series finds Dale Cramer at his absolute best. "Though Mountains Fall" is deeply moving, and sees the return of Caleb and his daughters Rachel, Miriam, and Emma in a thoroughly absorbing read that was every bit as good as the first two books in the series. I absolutely loved returning to the world of these Amish characters who are struggling to survive in a violent, uncertain Mexican valley. The characters are complex and unique, and explore life's uncertainties in a manner that left me still thinking about the book days later. Caleb again struggles with whether he has heard God's will calling him and his fellow Amish people to Mexico, and the Amish find themselves once again facing the question of how to keep their people safe against bandits bent on violence and revenge. The character I most came to care about in this story is Emma with her often surprising wisdom and her deep love for God and his grace and forgiveness. I don't mind admitting that this story moved me to tears, while at the same time drawing me into the fast-moving plot. Though I was entirely satisfied by the conclusion, I can say that this book is based on actual events and thus contains a realism that will not result in a perfectly happy ending. Part of real life includes unexpected circumstances, death and suffering. Dale Cramer handles such subject matters with grace and a sure hand, and the result is a story that will stick with you far beyond the final page.
I have loved every book of this series, and I am so grateful to Dale for sharing a compelling story that contains elements of his own family's history. Here is a novel and an entire series worth reading over and over again, and they have all earned a permanent place on my shelves.
I highly recommend this book, and award it 5 out of 5 stars.
Book has been provided courtesy of Baker Publishing Group and Graf-Martin Communications, Inc. Available at your favourite bookseller from Bethany House, a division of Baker Publishing Group.
Dale Cramer is the author of the bestselling and critically acclaimed novel Levi's Will, based on the story of Dale's father, a runaway Amishman. Dale's latest series, THE DAUGHTERS OF CALEB BENDER, is based on an Amish colony in the mountains of Mexico where three generations of his family lived in the 1920s. He currently lives in Georgia with his wife of 36 years, two sons and a Bernese Mountain Dog named Rupert. Visit him on his Web site at
www.dalecramer.com