Children's book review: "Fancy Nancy: Nancy Clancy, Secret Admirer" by Jane O'Connor & Robin Preiss Glasser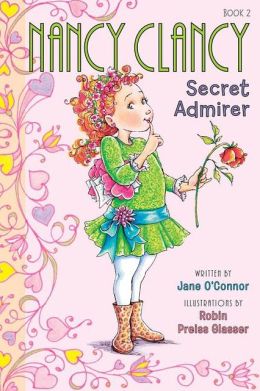 Nancy Clancy returns in an all new chapter book, and love is in the air! Nancy and her best friend, Bree, are learning about the human heart in science class, and they start wondering, what makes people fall in love? When Nancy's guitar teacher, Andy, and their favourite babysitter, Annie, break up with the people they had been dating, both Nancy and Bree decide to take on the role of matchmaker. But they soon discover that making them fall in love, even on Valentine's Day, isn't quite as easy as they thought it would be.
Jane O'Connor's latest Nancy book is sure to please girls who have grown up on Fancy Nancy picture books and are ready to move on to chapter books that deal with issues more appropriate for older girls. I must admit that my oldest daughter is still very naive, and that although she's 8, she didn't quite relate to Nancy's quest to make 2 teenagers fall in love. However, I also know that she's not typical for her age and that many girls in that age group are very focused on thoughts of love and what it means to date and find your perfect match. Like other books starring Nancy Clancy, the book is well-written and easy to read, featuring Robin's splendid and lively pictures that make Fancy Nancy a truly wonderful character. I love that these books continue to highlight themes of friendship and families who stick close together, making Nancy a character worth returning to.
If you are looking for a fun book to give your daughter, aged 6-10, just in time for Valentine's Day this year, then consider Nancy Clancy, Secret Admirer. I give it a solid recommendation of 4 out of 5 stars.
Book has been provided courtesy of publicist Sonya Koson with HarperCollinsCanada, Ltd. Available from your favorite book retailer from Zondervan, a division of HarperCollins.



New York Times bestselling author Jane O'Connor has written more than thirty books for children, including the insanely popular Fancy Nancy books (all HarperCollins). The first book, Fancy Nancy, has remained on the New York Times picture book list for ninety-eight weeks.
Born, bred, and still living on the Upper West Side of Manhattan (where the mystery is set), O'Connor considers her husband, Jim, a relative newcomer to NYC even after thirty-five years. Three days a week, she works as an acquiring editor in the children's books division of a major New York publishing house.
Jane O'Connor and Robin Preiss Glasser are the author and illustrator of the #1 New York Times bestselling Fancy Nancy series. Jane lives with her family in New York City. Robin lives with her family in Southern California.